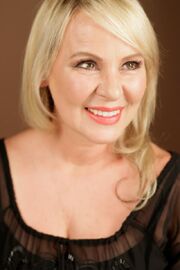 Wendee Lee (born February 20, 1960 in Los Angeles, California, USA) is an American voice actress who has voiced characters in numerous video games, but is particularly prolific in the dubbing of anime. Among her many roles are: Yoruichi Shihōin in Bleach, Faye Valentine in Cowboy Bebop, Takeru "T.K." Takaishi in Digimon Adventure, Kaolla Su in Love Hina, Konata Izumi in Lucky Star, and Haruhi Suzumiya in The Melancholy of Haruhi Suzumiya.
Lee voices Athena Cykes, Widget and Norma DePlume in Phoenix Wright: Ace Attorney: Dual Destinies. She reprises her role as Cykes as well as heads the voice directing in Phoenix Wright: Ace Attorney: Spirit of Justice.[1]
External links
Edit
References
Edit
↑ Ace Attorney. The Voices of Ace Attorney: Wendee Lee as Athena Cykes.
Pleeeeeeeease expand meeeeeeee!
This article is a stub or is otherwise incomplete. You can help the Ace Attorney Wiki by expanding it.
Ad blocker interference detected!
Wikia is a free-to-use site that makes money from advertising. We have a modified experience for viewers using ad blockers

Wikia is not accessible if you've made further modifications. Remove the custom ad blocker rule(s) and the page will load as expected.