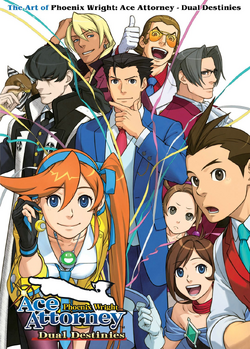 The Art of Phoenix Wright: Ace Attorney - Dual Destinies - is a 240-page English language paperback artbook published by Udon Entertainment in June, 2015. It was originally published in Japan on September 18, 2013 by Kadokawa Corporation Enterbrain as the Gyakuten Saiban 5: Official Visual Book.
The book is a collection of official art from Phoenix Wright: Ace Attorney: Dual Destinies. Also included is background information on the game's development, including an interview with Scenario Director Takeshi Yamazaki and Art Director Takuro Fuse.
Pleeeeeeeease expand meeeeeeee!
This article is a stub or is otherwise incomplete. You can help the Ace Attorney Wiki by expanding it.
Ad blocker interference detected!
Wikia is a free-to-use site that makes money from advertising. We have a modified experience for viewers using ad blockers

Wikia is not accessible if you've made further modifications. Remove the custom ad blocker rule(s) and the page will load as expected.