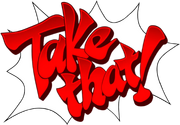 "Take that!" is one of the original three speech bubbles alongside "Objection!" and "Hold it!" This speech bubble is generally shouted by the protagonist while presenting evidence or pointing out a specific detail in a piece of evidence.
In Professor Layton vs. Phoenix Wright: Ace Attorney, Hershel Layton uses "Have a look!" instead. "Take that!" is also associated with the magatama, as Phoenix Wright shouts it when using the magatama in every game in which it appears, with the exception of Apollo Justice: Ace Attorney.
Characters with "Take that!" voice clips
Edit
Voice clips for "Take that!" are exclusively limited to playable characters in all Ace Attorney games to date; it is the only one of the original three speech bubbles for which this is the case.
Ad blocker interference detected!
Wikia is a free-to-use site that makes money from advertising. We have a modified experience for viewers using ad blockers

Wikia is not accessible if you've made further modifications. Remove the custom ad blocker rule(s) and the page will load as expected.