This article contains information about Ace Attorney media that has been released only in Japan.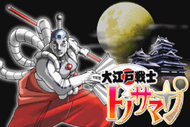 The information in this article comes from a game, demo, or other media that has been released in Japan, but not in any predominantly English-speaking country. The subject of this article has not been officially revealed for English versions of this media. English versions of this content are only available through unofficial translations, and names from these unofficial translations are not being used. More information on this can be found here.

If you have personal experience with the item of media in question, you can help the Ace Attorney Wiki by improving on this article. Please heed the manual of style when adding information.
We need more pieces to finish this puzzle.
This article is under construction. While it is not short, it still needs expansion as outlined in the manual of style. The article most likely needs expansion near the end of the tagged section or sections.
Susato Mikotoba
Link to the template page

Aliases/nicknames

Dependable Partner

*

(Japanese launch trailer)

Occupation
Judicial assistant
Names in other languages
Japanese

*

(romanization written with the given name first)

御琴羽 寿沙都 (Susato Mikotoba)
寿砂都さん (Susato-san)

*

(by Ryuunosuke Naruhodou)


御琴羽法務助士 (Mikotoba-houmujoshi)

*

(by Kazuma Asougi; lit. Legal Assistant Mikotoba)
すさとちゃん (Susato-chan)

*

(by Iris Watson)


Ms. スサト (Ms. Susato)

*

(by Sherlock Holmes and Hart Vortex)


スサト(Susato)

*

(by Gina Lestrade)


法務助士 (Houmujoshi)

*

(lit. Legal Assistant)
日本人 (Nihonjin / Nipponjin)

*

(lit. Japanese person)
Biological information
Reckoned birth year(s)

(this is for age comparison purposes, and so may look odd; click on the question mark for details)

?
1883
Documented age range

(as recorded in court record profiles and case files)

16

*

(age at debut)

Status

*

(last known)

Alive
Eye color
Brown
Hair color
Black
Height

*

(from official guidebooks)

5'0"; 153[1] cm
Associates
Family
Yūjin Mikotoba (father)
Friends
None mentioned
Affiliates
Ryūnosuke Naruhodō
Sherlock Holmes
Iris Watson
Actors
Japanese

*

(romanization written with the given name first)

Kana Hanazawa[2]
Miscellaneous
Debut episode
The Adventure of the Great Departure
Leitmotif
"Susato Mikotoba ~ The Flower That Blooms in the New World"
"Susato Mikotoba ~ Serenade"
If it's legal knowledge you need, just leave it to me!
Susato Mikotoba was a judicial assistant who lived in Japan during the Meiji period.[3] She has something of a sweet tooth and enjoys reading law books.
First encounters with Naruhodō
Edit
As Naruhodō's assistant
Edit
First trial in London
Edit
Defending a fellow Japanese
Edit
Return to Japan
Edit
Personality
Edit
On default circumstances, Susato would have the personality similar to a typical Yamato Nadeshiko. However, as Susato finds herself slowly growing closer to other people, she would begin to assume a much more cutesy and casual way of speaking, which includes her speaking in third person. Susato is also shown to be quite strong in a physical sense, having performed several "Susato Throw"s and "Susato Drop"s on Ryūnosuke Naruhodō.
Development
Edit
Susato Mikotoba is designed around the yamato nadeshiko archetype, with a somewhat believable, but ultimately impossible, hairstyle. Overall, her design is fairly subdued to contrast with Sherlock Holmes and Iris Watson.[4] It can also be noted that her outfit draws inspiration from the typical Meiji period jōgakusei image, which consisted of mainly a kimono, hakama, and boots.
References
Edit