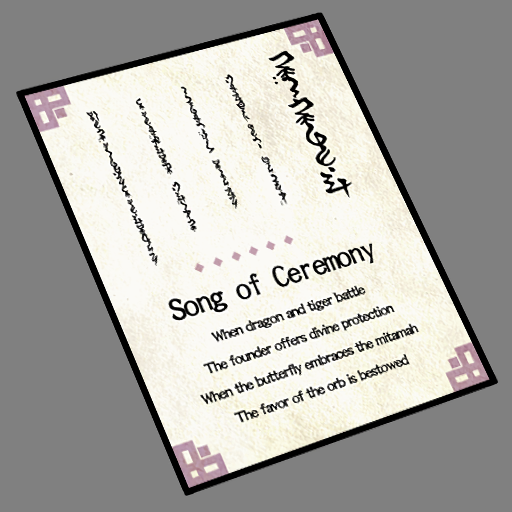 The Song of Ceremony is a piece of music that is played during royal priestess Rayfa Padma Khura'in's Dance of Devotion ritual.
English Lyrics
Edit
When dragon and tiger battle

The founder offers divine protection

When the butterfly embraces the mitamah

The favor of the orb is bestowed

Offer thy prayers as fervent as fire

Only then shall the Holy Mother return

Descending upon us in all her glory

The founder bestows the greatest power known

Japanese Lyrics
Edit
怒れる龍虎 争えど

始祖の加護にて 守られん

蝶がミタマを 抱くとき

宝玉の恩寵 賜らん
Ikareru ryo ko arasoedo

Shiso no kago nite mamora ren~

Cho ga mitama o idaku toki

Hōgyoku no onchō tamawara n~
The second verse of the song explains how to open up the treasure box which contains the Founder's Orb.
The Japanese version of the song is performed by Haruka Shimotsuki.