Simon Blackquill
Talk

11
815pages on
this wiki
This article contains information about Ace Attorney media that has been recently released.
The information in this article comes from a game, demo, or other media that has been recently released worldwide. This article may need input from an editor who has personal experience with the media in question. If you have, you can help the Ace Attorney Wiki by expanding this article. Please heed the manual of style when adding information.

If you have not played this game, you should know that this article likely contains major spoilers. You have been warned.
...............Hmph. ......Enough jabbering. Get on with it, already.

Simon Blackquill[2] is a prosecutor who was ordered to stand in court despite technically serving a murder sentence. He was the suspect in the UR-1 Incident, and uses psychological manipulation techniques to his advantage.[3] His animal companion, a hawk named Taka, perches on his shoulder[4] and harasses Apollo Justice to prevent him from using his bracelet.
Early investigations
Edit
For much of his early career as a prosecutor, Blackquill had been pursuing an international spy known simply as "the Phantom". As it was said that the Phantom showed no emotions, he learnt analytical psychology from Metis Cykes, who worked at the GYAXA space center alongside Blackquill's older sister, Aura.
False conviction
Edit
One day, Blackquill went to visit Cykes after discovering some crucial information about the Phantom. When he arrived at the robotics lab, however, he found Metis lying on the robot repair bench, dead from a stab wound in her chest. He was horrified to discover Athena, her eleven-year-old daughter, standing next to the body, explaining that she intended to "take her apart so she could be fixed" (Athena did not realise the difference between humans and robots at the time). Fearing that Athena had killed her own mother, Blackquill dismantled Ponco, a robot who had witnessed the crime, before taking the robot and Athena out of the lab. He then returned and covered his own sword in Metis' blood. He was caught on camera during this moment and subsequently arrested.
Blackquill was put on trial for Metis' murder, but put up little resistance, outright admitting that he had stabbed her. Athena desperately tried to explain that Blackquill was innocent, but her cries fell on deaf ears, and the rookie prosecutor was found guilty. This incident, alongside the disbarring of Phoenix Wright for unintentionally using forged evidence, began what became known as the "Dark Age of the Law".
Permission to prosecute
Edit
A prosecutor who is serving time? How do you still have your law license?!
Hmph. You of all people should know, what is dark is light in this new age of the law.
Well, I refuse to accept that!

Blackquill got his license to practice law back after Miles Edgeworth became the Chief Prosecutor. His first case after seven years was against Apollo Justice, who was defending Damian Tenma, mayor of Tenma Town, for the murder of Rex Kyubi, alderman of Nine-Tails Vale. During that trial, Blackquill broke his shackles, causing everyone in the courtroom to panic. Afterwards, Blackquill spits out the feather in his mouth and "slices" it using his index finger in front of Apollo's face to scare him. He immediately switched to his "Silence!" phrase, and the next day, was provided with sturdier shackles (which he still was able to break.)
First Case Against Wright
Edit
Blackquill chose this moment, when an orca was accused of killing someone, to personally meet Phoenix Wright in the courtroom. The two faced off, and, when Orla was revealed to be innocent, he revealed his true plot, to accuse her trainer, Sasha Buckler.
Versus Athena
Edit
Murder of Clay Terran
Edit
UR-1 Resolution and Catching the Phantom
Edit
Personality
Edit
Blackquill is a calm and collected man who likes to use sword duel analogies. He also has a dark and somewhat mischievous sense of humor which he shows occasionally. He speaks an old-fashioned English and he addresses his rival attorneys with the (somewhat outdated) honorific "-dono", while everyone else gets a nickname playing on their real one (Fulbright is usually referred to as "Fool Bright", for example).  Whenever he objects, Blackquill sometimes refers to his experiences in prison such as meeting a captured ninja or a surgeon to explain away whatever he is objecting. He is also an Iaijutsu practitioner, as he will flick his finger at the defense whenever he is agitated, causing a "slicing" effect, which even was able to cut off Phoenix Wright's hair.
In court, Blackquill will use psychological tricks to bend witnesses and the Judge into doing and saying what he wants, including flattery, suggestive persuasion, and outright death threats. He will also send Taka to attack attorneys and witnesses he believes are attempting to use underhanded tactics or being obstructive (such as when Apollo attempts to use his Bracelet during cross-examination, or Aristotle Means when he started throwing chalk at Athena to disrupt her own cross-examination), and to deliver evidence to other parties. When taking to Jinxie Tenma in court, he seemed to take some of what she said about yokai seriously, showing a side that believes in the supernatural. He is also an avid bird-lover, becoming angry when Dr. Crab 'belittles' Rifle, showing he loves all types of birds but he still favors Taka the most.
Athena says then in the past he was a good hearted man who had always followed the rule of law. Despite his appearance he is shown to care deeply for Athena. When it is found out that Blackquill has only a day to live, because he is due to be executed for the crimes of killing Metis Cykes and being a spy; he never talks about what truly happened and was willing to die for Athena's sake. After the final trial he acts the same but when he talks to his sister he genuinely thanks her for her efforts to save him and apologizes for the suffering he caused her. In the credit roll he is seen in Wright's office seeking his service in order to represent Aura as her defense.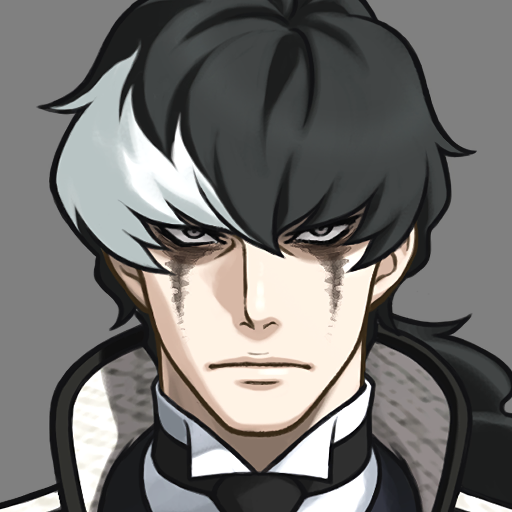 His Japanese surname is possibly a play on the word "yugami" (歪み), which means "a warp/distortion".
His Japanese given name means "swiftness".
His English given name "Simon" comes from the Classical Hebrew "שִׁמְעוֹן" (shim'ón), meaning "hearkening" or "he has heard".
The name "Simon" may come from the famous psychology author George K. Simon who published the book "In Sheep's Clothing: Understanding and Dealing with Manipulative People" that deals with manipulation.
The name "Simon" could also come from the way he's said to play "Simon Says" with the judge.
"Blackquill" is a combination of "black" (dark colors being prominent in his character design) and "quill" (a writing implement made from the molted flight feather of a bird).
"Blackquill" might also be read as "black will", possibly referring to his impending death sentence.
Development
Edit
Blackquill has the unique interjection "Silence!" which he uses in court. In the Japanese version, this is "Dama ri nā!"(黙りなァ!)

His concept for creation was that of a contradiction: someone who worked as a prosecutor but was also a criminal.  His initial designs focused on the criminal element, but for the final design this was switched to the prosecutor element with only some small bearings of his criminal background.  (His shackles, color scheme, and ragged hair.)  His use of a hawk was also said to reflect a samurai vibe, since falconry was a sport conducted by samurai.
As shown in his concept art he used to wield a sword which interacted with the shackles much like his finger "technique" but in an interview the fact he was able to wield a sword was said to be too unrealistic, due to the fact in Japan, swords are illegal for regular people let alone a criminal. 
During his initial concept he was the one who had Athena's ability to read emotions (hence the headphones in his first draft).  This was eventually given to Athena while he was given the ability to manipulate people.
His way of speaking in the original game used an old dialect of Japanese which sounded rough and slightly rude. In the English version, this was represented with use of British English and a combination of Japanese suffixes.
Although Blackquill has a voice clip for "Objection!" and "Silence!", he does not speak at all during the anime cutscenes; he is the only voiced character not to do so. 
References
Edit
External links
Edit
Pleeeeeeeease expand meeeeeeee!
This article is a stub or is otherwise incomplete. You can help the Ace Attorney Wiki by expanding it.