Shu Takumi
Talk

1
713pages on
this wiki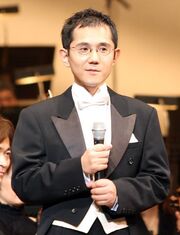 We need more pieces to finish this puzzle.
This article is under construction. While it is not short, it still needs expansion as outlined in the manual of style. The article most likely needs expansion near the end of the tagged section or sections. The user who tagged this article or section may have left commented notes, which the new rich text editor may not show.

Shu Takumi (巧 舟 Takumi Shuu) is a Japanese video game developer working at Capcom who is the main developer of the core Ace Attorney series, serving as director and scriptwriter for each game. In addition, he provided the Japanese voice for Phoenix Wright throughout the series.
Shu Takumi joined Capcom in 1994 along with Hideki Kamiya. His first game was Gakkou no Kowai Uwasa: Hanako-san ga Kita!! (学校のコワイうわさ 花子さんがきた!!). In 1998, Capcom assigned him to cooperate with Shinji Mikami to release Resident Evil 2. After the commercial success of Dino Crisis, Capcom asked their developers to bring a new sequel to this game. Takumi asked them to work in the sequel as a director. Capcom accepted his request. Like its predecessor, Dino Crisis 2 received a positive response from critics, and it was a commercial success. In 2001, Takumi decided to continue creating games in the visual novel genre. Therefore, he created Ace Attorney. Although he didn't finish from this series yet, but he worked in another game called Ghost Trick: Phantom Detective. Takumi is not involved in the development of Gyakuten Saiban 5 due to having been busy working on Professor Layton vs. Ace Attorney.
Shu Takumi is credited in the following games:
Interviews
Edit
GayGamer.net interview
Edit
Takumi talks about the creation of the character Miles Edgeworth, here referred to by his Japanese name Reiji Mitsurugi. Source
Question: Comments collected from User's Voice say that although he's gaudy, there's a fondness for Mitsurugi. How was creating Mitsurugi's character?
TAKUMI: Compared to Naruhodo, Mitsurugi wasn't easy to think much up for. I had to play around a lot with him. Once I included the fact he was rich, I was able to steadily add more to his character.
Q: When you say "rich", fans (and I) obviously think about his high class tendencies.
T: I wonder why they would think that? (laugh). Maybe he breeds big dogs? He'd put the white cravat on their necks. So that he could keep them indoors, of course he'd have a big rich mansion. "Hey Pesu, what are you barking about?"
Q: PESU!?
T: The dog's name. (laugh) Mitsurugi can't communicate well with people and horses, so he can only talk to Pesu. (laugh)
Q: Only with Pesu. (laugh) You speak fondly of him.
T: If Pesu died, I think Mitsurugi's world would completely collapse. Then he'd be a dangerously unbalanced man.
Q: The foundation of Mitsurugi's heart, Pesu. (laugh) Ordinarily he puts up a strong front, but in front of Pesu he can show his weak side?
T: Joking aside, Mitsurugi does have two faces. At first my plan was to write an unlikeable man. But…in Futabasha-san's Capture Book, Suekane-san drew "Mitsurugi likes the Steel Samurai" in a comic. (laugh) That's the first time I thought a likeable man would be cuter.
Q: Naruhodo and Mitsurugi, which do you think is the cutest?
T: Naruhodo is a lot like myself, but I've never thought of him as "cute". I can see things from his point of view, is all.
Q: Then, from Naruhodo's point of view, Mitsurugi is…
T: He'd probably say he's become a pretty cute guy. (laugh) Mitsurugi's character's flavor really came out from around "Gyakuten Saiban 2" on. In that game I wanted to really expand upon Mitsurugi, so I thought up the episode where he rescued Naruhodo from that pinch.
External links
Edit