We need more pieces to finish this puzzle.
This article is under construction. While it is not short, it still needs expansion as outlined in the manual of style. The article most likely needs expansion near the end of the tagged section or sections.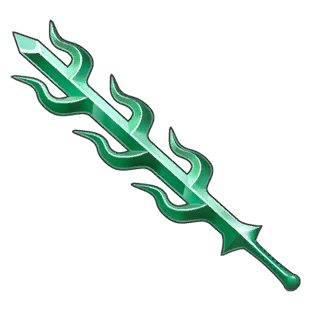 The Shichishito (lit. "seven-branched sword") is a seven-branched, emerald sword that is part of a statue of Ami Fey from Kurain Village. It is said to represent life itself. While the sword seems to branch out into many possibilities, it is destined to end at the same single tip.
Lordly Tailor incident
Edit
Main article: The Stolen Turnabout
The Ami Fey statue was one of the Fey clan heirlooms displayed at a Lordly Tailor exhibition and stored in the building's basement. It received significant damage during the night of Kane Bullard's murder. When the Sacred Urn of Kurain was stolen, Luke Atmey, who had been guarding the urn in the basement, claimed to have been hit on the head by a replica of the sword. However, it was proven in court that this was false. Adrian Andrews later fixed the sword.
Misty Fey's murder
Edit
Main article: Bridge to the Turnabout
The statue was later returned to Hazakura Temple, its original home. Less than six months after the Lordly Tailor incident, it was once again involved in another case. The body of Misty Fey was found with the sword through her back. It was at first believed to have been used to kill Fey, but Miles Edgeworth later proved that the Shichishito was not the real murder weapon during Sister Bikini's account of the events on the night of the murder.
This weapon's appearance is modeled after the real-life Seven-Branched Sword, one of Japan's National Treasures.
Ad blocker interference detected!
Wikia is a free-to-use site that makes money from advertising. We have a modified experience for viewers using ad blockers

Wikia is not accessible if you've made further modifications. Remove the custom ad blocker rule(s) and the page will load as expected.