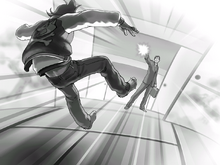 The Rivales Family are a mob family situated in Los Angeles. They have a fierce rivalry with the Kitaki family and a fight between the two almost killed Wocky Kitaki.
"Rivales" comes from the word "rivals", referencing their rivalry with the Kitaki family. In fact, the word "rival" is the same in Spanish, but its plural is "rivales".
Pleeeeeeeease expand meeeeeeee!
This article is a stub or is otherwise incomplete. You can help the Ace Attorney Wiki by expanding it.
Ad blocker interference detected!
Wikia is a free-to-use site that makes money from advertising. We have a modified experience for viewers using ad blockers

Wikia is not accessible if you've made further modifications. Remove the custom ad blocker rule(s) and the page will load as expected.