Rifle
Link to the template page

One-off nicknames

The Houdini of the penguin world

*

(by Phoenix Wright)

Little pipsqueak

*

(by Athena Cykes)

Occupation
Shipshape Aquarium penguin
Names in other languages
Japanese

*

(romanization written with the given name first)

ライフル (Rifle)
Biological information
Reckoned birth year(s)

(this is for age comparison purposes, and so may look odd; click on the question mark for details)

?
Unknown
Documented age range

(as recorded in court record profiles and case files)

Unknown
Status

*

(last known)

Alive (July 2027)
Eye color
Grey
Hair color
N/A

*

(blue and white feathers)

Height

*

(from official guidebooks)

??? cm
Associates
Family
Sniper (daughter)
Friends
Pearl Fey (aquarium visitor)
Marlon Rimes (aquarium animal keeper)
Orla Shipley (aquarium orca)
Affiliates
Herman Crab (aquarium vet and imprinting target of Sniper)
Miscellaneous
Debut episode
Turnabout Reclaimed
Rifle is a female Little Penguin (Eudyptula minor) that lives at the Shipshape Aquarium. She carries a backpack of flyers for the "Swashbuckler Spectacular" show and is also the mother of Sniper.
Both Rifle and Sniper's names come from "sniper rifle". In-game, Herman Crab was the one who named them both.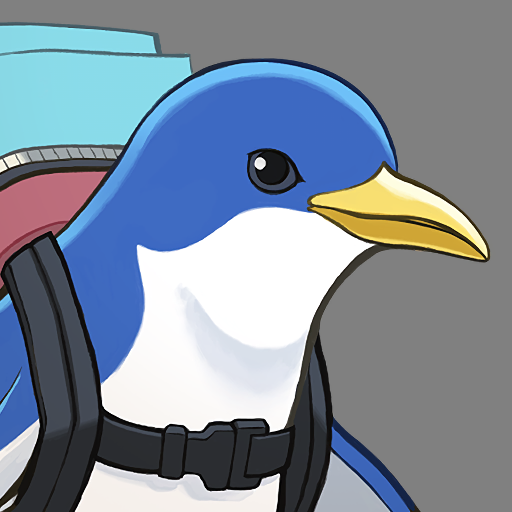 Despite being called a Little Penguin, Rifle has a number of anatomical inaccuracies: her feet are yellow instead of pink (likely changed to make her stepping in pink paint more obvious), her beak is yellow rather than dark grey-black, and she is larger (as seen in a cutscene) than the mere 30-33 cm (12 to 13 inches) that the species normally reaches.
Pleeeeeeeease expand meeeeeeee!
This article is a stub or is otherwise incomplete. You can help the Ace Attorney Wiki by expanding it.