This article contains information about Ace Attorney media that has been released only in Japan.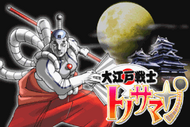 The information in this article comes from a game, demo, or other media that has been released in Japan, but not in any predominantly English-speaking country. The subject of this article has not been officially revealed for English versions of this media. English versions of this content are only available through unofficial translations. More information on this can be found here.
If you have personal experience with the item of media in question, you can help the Ace Attorney Wiki by improving on this article. Please heed the manual of style when adding information.
A prosecutor's badge is an object used as identification for prosecutors. It depicts a blazing sun looming over winter frost, which is allegedly designed to portray the severity of the punishment system.
Every prosecutor carries a badge, though many don't wear it openly in the way defense attorneys do. Among those who do wear their badges are Chief Prosecutor Blaise Debeste and his son Sebastian, as well as the prosecutor in charge of the first UR-1 Incident trial. Manfred von Karma believed in keeping his badge in his pocket at all times and taught Miles Edgeworth, and most other district prosecutors, to do the same.
Other uses of design
Edit

This badge design was also used by Japanese prosecutors during the Meiji period, albeit on an armband rather than as a lapel pin. Additionally, the design used for the prosecutor's badge can be seen on the floor design of the office of the chief of police.