Layton-kyōju VS Gyakuten Saiban
Talk

6
714pages on
this wiki
This article contains information about Ace Attorney media that has been released only in Japan.
The information in this article comes from a game, demo, or other item of Ace Attorney-related media that has been released in Japan but not in any predominantly English-speaking country. The subject of this article has not been officially revealed for English versions of this media, so all information should be written with the Japanese version's context in mind. Because Japanese-only content is prone to mistranslations, the information presented in this page comes with no confidence of its accuracy.

This article may need input from an editor who has personal experience with the item of media in question. If you have, you can help the Ace Attorney Wiki by expanding this article. Please heed the manual of style when adding information.
Layton-kyōju VS Gyakuten Saiban (レイトン教授 VS 逆転裁判, lit. "Professor Layton VS Turnabout Trial") a crossover adventure puzzle video game developed by Level-5 and Capcom and published by Level-5 for the Nintendo 3DS. The game is a crossover between the Ace Attorney and the Professor Layton adventure series and features scenario designs from Shu Takumi, the series director for the Ace Attorney series,[2] though he was not in charge of the script.[3] The game combines the trademark puzzle and trial themes from each series.[4] The Capcom part of the development team was put in charge of the art.[5]
Plot premise
Edit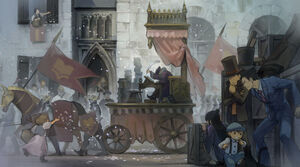 Hershel Layton, Phoenix Wright, Luke Triton and Maya Fey find themselves in Labyrinth City, a strange medieval-style city in a different world from their own that has recently been falling victim to a number of seemingly impossible occurrences. The town is controlled by an evil villain known as the Story Teller and its shadows conceal witches.[4] When a girl named Mahoney is accused of witchcraft, Wright takes on the challenge, which consists of "Witch Trials", where the familiar procedures of the Ace Attorney games are thrown out, and he must contend with an entire mob of conferring witnesses.
Development
Edit
The idea of a crossover between the Professor Layton and Ace Attorney series was a corporate one. Shu Takumi had apparently not known much about the project until well after development had proceeded on it. Though Level-5 president Akihiro Hino was a fan of the Ace Attorney series, Professor Layton producer Jun Suzuki had never even played any of the games before the crossover began development. The development team went through a trial-and-error process to see how best to merge aspects of the two series. While Wright is drawn more simply than in his games, Layton is drawn in more detail.[5]
The transition to 3D models was new to the Ace Attorney series, which previously only used brief instances of 3D imagery in Rise from the Ashes and Apollo Justice: Ace Attorney. While Takumi had stated his preference for 2D graphics in his games in the past, he accepted that the transition to the 3DS made 3D graphics inevitable, and that a 3D environment would add depth, character and flexibility to the game's depictions of the courtroom.[5]
Announcement
Edit

The game was officially announced at the Level-5 Vision 2010 press conference on October 19, 2010.[6] The game was first teased as a crossover between Capcom and Level-5 by Keiji Inafune, then head of Capcom's R&D Management Group, who was talking to Japanese business magazine Diamond prior to the Tokyo Game Show 2010. He mentioned that he had great respect for Akihiro Hino.[7] On September 25, 2010, the game was accidentally outed on Twitter when Jiro Ishii of Level-5 accidentally tweeted to Jin Fujisawa of Square Enix, "Huh? Oh, Gyakuten XX. I'm making it, with Mr. Takumi!" in Japanese, which led to rampant speculation of a new Ace Attorney game being developed by Level-5, similarly to how new Capcom games from established franchises are being developed externally.[8] Jiro Ishii quickly covered up this leak, who tweeted later that day, "A misunderstanding seems to be spreading, so let me say that I'm currently working only on Time Travelers." This evidently turned out to be false; Ishii was working on both titles.[9] A Nintendo Dream magazine issue featured the game and Gyakuten Kenji 2.
A year later, the game made a reappearance at the Tokyo Game Show on September 2011, as well as at the October 2011 Level-5 World event and the January 2012 Gyakuten Saiban Anniversary Event, all of which focused on Phoenix Wright's gameplay. It was then revealed that a 2012 release was planned. A year after that, the release date was revealed some time before another showing at Tokyo Game Show 2012. The game was released in Japan on November 29, 2012. An international release date has yet to be announced.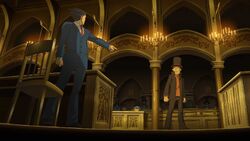 The game features a combination of gameplay elements from both series, featuring the trademark puzzles from the Professor Layton series as well as trials from the Ace Attorney series. Professor Hershel Layton has to solve the mysteries of the strange world while Phoenix Wright participates in "Witch Trials", which are similar to the court trials in the Ace Attorney series, to prove the innocence of his client, who has been accused of witchcraft.[4] The game also features fully-voiced anime style cutscenes that are common in the Professor Layton games but a first for the Ace Attorney series.[2]
Gunshū Saiban
Edit
When you try to imagine medieval court proceedings, you tend to picture these mob scenes with people shouting out accusations at the tops of their lungs. It's a crazy scene, and since this game's set in a medieval city, I wanted to present a court the likes of which we've never seen before.
Gunshū Saiban ("Mob Judgment") is a gameplay feature in the Witch Trials. At times, Phoenix must "cross-examine" a group of several witnesses, who may freely confer with one another.[5] Witnesses can also jump in or leave the group at any time.
Representative characters
Edit
Ace AttorneyEdit
Phoenix Wright is a renowned defense attorney who must defend a client accused of witchcraft.[4]
Professor LaytonEdit
Professor Hershel Layton is a famous archaeology professor with a fascination for puzzles. This love of puzzles has solved numerous mysteries and put his name in the papers many times.
Luke Triton is the self-proclaimed apprentice of Professor Layton and follows him everywhere to assist him on his journeys.
Barton is a constable from Scotland Yard working under Inspector Chelmey.
Labyrinth City characters
Edit
Literast Catalucia, the Story Teller is the sinister ruler of Labyrinth City. Whatever story he writes comes to pass as events in the real world.
Mahoney Catalucia is a young woman accused of witchcraft who becomes Wright's client.
Jeeken Barnrod is a local prosecutor. He is a red-haired man in a suit of plate armor and has a sword that he points at his opponent, similarly to the iconic finger points of various lawyers in the Ace Attorney games.
Jordalla is a prosecutor and Jeeken Barnrod's superior working with Literast.
Madalla is a flower girl who is one of the witnesses in Mahoney Catalucia's witch trial.
Knights is a young man striving to be a knight who is a witness in the witch trial.
Bertha is an old woman who sells milk. She is one of the witnesses in the witch trial.
Kyke is an old man who is one of the witnesses in the witch trial.
Croix is the head of a local bakery who is usually nice, but strict when it comes to bread.
Nazomi is a librarian who refuses Layton access to the library's "Complete Works on Witches" before answering her puzzles.
References
Edit
External links
Edit