This article contains information about Ace Attorney media that has been released only in Japan.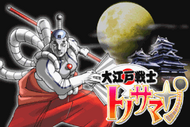 The information in this article comes from a game, demo, or other media that has been released in Japan, but not in any predominantly English-speaking country. The subject of this article has not been officially revealed for English versions of this media. English versions of this content are only available through unofficial translations, and names from these unofficial translations are not being used. More information on this can be found here.

If you have personal experience with the item of media in question, you can help the Ace Attorney Wiki by improving on this article. Please heed the manual of style when adding information.
The prison is the building where most convicted criminals of Los Angeles are held. It is directly connected to the detention center, where suspects and criminals of minor offenses are held. The prison uses animal therapy, introduced by Marī Miwa during her time as warden.
Visitors to the facility are checked by metal detectors with a security guard at the entrance. Each door is equipped with sensors that react to the prisoners' bracelets, making it easy to keep track of them. Should a prisoner try to pass through a door unauthorized, an alarm is sounded, and the bracelets induce an electric shock to incapacitate the prisoner. Prisoners can go outside into a courtyard, which is protected by an electrified fence. The warden of the prison is the only one who has access to the breaker room located in the courtyard.
Life in prison
Edit
A daily roll call is made at 7:00 in the morning and then at 21:00 in the evening. During Issei Tenkai's prison term, his pastry snacks were sometimes issued to the prisoners at 15:00. Misbehaving prisoners can be sent to a "punishment room". In March 2019, Shūji Orinaka was dragged away to the punishment room on Hakari Mikagami's orders after he riled up the other prisoners while he was being questioned.
A special cell contains a particularly notorious criminal named Ryōken Hōinbō. An assassin by trade, once he was caught and sent to prison, he coerced Miwa into giving him special treatment. As part of the deal, Miwa secretly made a smuggling route to deliver various goods to Hōinbō every week. The continual blackmail eventually drove her over the edge and she killed a suspect who she was convinced was one of Hōinbō's lackeys.
Rehabilitation
Edit
Each prisoner is given a pet animal as part of the animal therapy program. These animals are equipped with microchips that cause the doors to open for them, allowing them to move freely within the prison. There is also a large training ground for the pets in the prison hallway. Even Miwa had pets, namely Ally the alligator, who lives in a pond in the courtyard, and the foxes that she carries around her body.
The prison contains two workrooms mainly used for job training. For example, Frank Sahwit used Workroom B to qualify as a pet trimmer. Prisoners must reserve a workroom to gain access to it. The Berry Big Circus has a show in the courtyard every month, and uses Workroom A to store some of its equipment.
References
Edit
In the leftmost cell, a parrot can be seen. This might be a hint to this cell belonging to Yanni Yogi, as the parrot seems to resemble Polly.