Phoenix Wright: Ace Attorney
Japanese title
Game Boy Advance:

逆転裁判 蘇る逆転 (Gyakuten Saiban: Yomigaeru Gyakuten)

Genre
Visual novel
Developer
Capcom
Release
Game Boy Advance

September 15, 2005 (Japan)
March 31, 2006 (Europe)
March 8, 2009 (Australia)

December 23, 2005 (Japan)

December 15, 2009: Episode 1-4
March 16, 2010: Episode 5 (Japan)
January 15, 2010: Episode 1-4
May 28, 2010: Episode 5 (Europe)

Android

Number of players
1
Media
64 MB + 64KB EEPROM
Rating


Phoenix Wright: Ace Attorney (逆転裁判 蘇る逆転 Gyakuten Saiban: Yomigaeru Gyakuten, lit. Turnabout Trial: Revived Turnabout) is the first game in the Ace Attorney series. It was originally released in Japan on October 12th, 2001 as a Game Boy Advance game under the name Gyakuten Saiban (逆転裁判, lit. Turnabout Trial). The original version of the game is split up into four episodes that follow the first four cases of rookie defense attorney Phoenix Wright.
Re-releases
Edit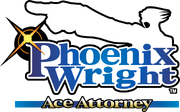 The Nintendo DS remake, Gyakuten Saiban: Yomigaeru Gyakuten was released in Japan on September 15th, 2005 with an additional case. This remake was also translated and released in the US and other countries as Phoenix Wright: Ace Attorney. This version uses the microphone and the touchscreen of the DS as alternatives to the button-based control methods from the original GBA game. For example, the player can select options by touching them like buttons, and the player can press witnesses or present evidence by holding Y and shouting "Objection!", "Hold it!" or "Take that!" into the microphone. The Japanese versions have dual language options in Japanese and English, and the European version has translations for multiple European languages.
The game was brought to the Nintendo Wii as a downloadable title via WiiWare; its build based upon the 2006 European DS release of Phoenix Wright: Ace Attorney. It was released in Japan on December 15, 2009, and in the US on January 11, 2010, consisting of the first four cases with Rise from the Ashes was released separately on March 16, 2010 in Japan, and on May 24, 2010 in the US. The releases cost 900 and 300 Nintendo Points respectively; for the US release, these costs were changed to 1000 and 100 Nintendo Points respectively.
The game has also been ported to the iOS and was released on May 24, 2010 in the App Store with all five cases that were included in the DS edition. The game had a revamped control system, but was otherwise a straight port. The game is also featured as part of Phoenix Wright: Ace Attorney Trilogy for the Nintendo 3DS.
Following Tokyo Game Show 2018, a port has now been announced for the Ace Attorney Trilogy to the PC, Xbox One, PS4 and Nintendo Switch, which will include the game along with the two other original trilogy titles.
Main characters
Edit
Phoenix Wright is a rookie defense attorney who is the main character and playable protagonist of the game.
Maya Fey is Wright's second client and Mia's younger sister. After the events of Turnabout Sisters she becomes his defense aide. She is a spirit medium-in-training who is able to channel Mia after her death in Turnabout Sisters.
Miles Edgeworth is the main antagonist for most of the game. He prosecutes against Wright in Turnabout Sisters, Turnabout Samurai and Rise from the Ashes. He is also Wright's client in Turnabout Goodbyes.
Dick Gumshoe is the bumbling detective in charge of the latter four episodes.
Larry Butz is a childhood friend of Wright and his first client.
The nameless judge presides over all of Wright's trials in the game.
Ema Skye is Wright's defense aide in Rise from the Ashes. She aspires to be a forensic investigator someday and loves forensic investigation. She introduces and explains the final case's DS-exclusive investigative techniques.
Characters by episode
Edit
The First TurnaboutEdit
Larry Butz (debut)
Mia Fey (debut)
The judge (debut)
Winston Payne (debut)
Phoenix Wright (debut)
Frank Sahwit (debut): a newspaper salesman and key witness
Cindy Stone (exclusive): Butz's ex-girlfriend and the victim of murder
Turnabout SistersEdit
Mia Fey
The judge
Phoenix Wright
Bellboy (debut): a member of staff at the Gatewater Hotel
Miles Edgeworth (debut)
Maya Fey (debut)
Marvin Grossberg (debut): a veteran defense attorney who was Mia's mentor
Dick Gumshoe (debut)
April May (exclusive): a flirtatious young woman
Redd White (exclusive): head of information gathering conglomerate Bluecorp
Misty Fey (allusions): Maya and Mia's long missing mother
Turnabout SamuraiEdit
Turnabout GoodbyesEdit
Larry Butz
Maya Fey
Mia Fey
The judge
Miles Edgeworth
Marvin Grossberg
Dick Gumshoe
Phoenix Wright
Lotta Hart (debut): a fiery young woman looking for the lake monster "Gourdy"
Manfred von Karma (debut)
Robert Hammond (exclusive): the victim who was the defense attorney for the DL-6 Incident
Polly (debut): a pet parrot belonging to Yanni Yogi
Yanni Yogi (exclusive): the suspect in the DL-6 Incident
Misty Fey (allusions)
Gregory Edgeworth (allusions): father to Miles Edgeworth, veteran defense attorney, and the victim in the DL-6 Incident
Rise from the AshesEdit
The judge
Miles Edgeworth
Dick Gumshoe
Phoenix Wright
Mike Meekins (debut): a young and overly-excitable police officer
Ema Skye (début)
Damon Gant (exclusive): the extroverted district Chief of Police
Bruce Goodman (exclusive): a police detective found murdered
Jake Marshall (exclusive): a police officer obsessed with the wild west
Lana Skye (exclusive): Chief Prosecutor, Ema Skye's older sister, and the defendant
Angel Starr (exclusive): a lunch box saleswoman with two sides to her personality
Joe Darke (allusions): a deceased spree killer who was convicted for the SL-9 Incident
Neil Marshall (allusions): deceased prosecutor, Jake Marshall's younger brother, and a victim in the SL-9 Incident.
Gyakuten Saiban 1Edit
Concept-Script-Direction:
Phoenix Wright: Ace Attorney (Gyakuten Saiban: Yomigaeru Gyakuten)Edit
Planning/Script/Director:
Related soundtracks
Edit
​There is an additional unused track in the game which can only be found inside the game's ROM. This track is not found anywhere else and can be listened to here.
Box art gallery
Edit
External links
Edit