We need more pieces to finish this puzzle.
This article is under construction. While it is not short, it still needs expansion as outlined in the manual of style. The article most likely needs expansion near the end of the tagged section or sections.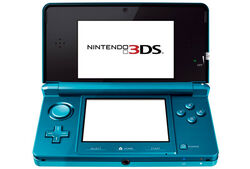 The Nintendo 3DS (ニンテンドー3DS Nintendō 3DS) is the latest portable game console by Nintendo, and can produce "3D effects without the need for any special glasses" via a process called autostereoscopy. It was released in Japan on February 26, 2011 for ¥25,000, succeeding the Nintendo DS series of handhelds, which primarily shares the handheld console market with Sony's PSP (PlayStation Portable). The Nintendo 3DS features backward compatibility with Nintendo DS series software, including Nintendo DSi software.
Announcing the device on March 23, 2010, Nintendo officially unveiled it at the 2010 Electronic Entertainment Expo (E3) on June 15, with the company inviting attendees to play with the console. According to industry analysts, the timing of Nintendo's original announcement, which had drawn attention away from the launch of the company's still-new Nintendo DSi XL handheld, was likely intended to preempt impending news leaks about the product by the Japanese press. The official release date for Japan was announced in a press conference on September 29.
Ace Attorney on 3DSEdit
There are currently five known Ace Attorney games for the 3DS. The first is the crossover game Professor Layton vs. Phoenix Wright: Ace Attorney, developed by Level-5 and released on November 29. 2012 in Japan, and released on March 28, 2014 in Europe and August 29, 2014 for the United States. There is also the fifth core Ace Attorney game, Phoenix Wright: Ace Attorney: Dual Destinies, released on July 25, 2013 in Japan and October 24, 2013 in other regions.
A stereoscopic 3D-enhanced compilation of the original trilogy (Phoenix Wright: Ace Attorney, Phoenix Wright: Ace Attorney: Justice For All, and Phoenix Wright: Ace Attorney: Trials and Tribulations) called Phoenix Wright: Ace Attorney Trilogy was released on 3DS in Japan on April 17, 2014, with a winter 2014 release in other regions.
A fourth 3DS Ace Attorney game, Dai Gyakuten Saiban: Naruhodō Ryūnosuke no Bōken, was released in Japan on July 9, 2015.
The fifth 3DS Ace Attorney game was the sixth main series game Phoenix Wright: Ace Attorney: Spirit of Justice, which was released on June 9, 2016 for Japan and September 8 for other regions.
The controls for Ace Attorney games on the 3DS are nearly identical to those on the DS. Although the microphone feature from previous games is absent in Professor Layton vs. Phoenix Wright: Ace Attorney, it is present in Phoenix Wright: Ace Attorney: Dual Destinies, albeit now only becoming active via a small icon on the touchscreen, rather than holding down the "Y" button as was previously the case.
Acquiring three consecutive penalties during a single testimony will cause a "consult" button to appear on the touchscreen. Either pressing this on the touchscreen or using the "X" button will cause the co-counsel to tell the player which part of the testimony should be focused on.
Box art for 3DS Ace Attorney gamesEdit
Ad blocker interference detected!
Wikia is a free-to-use site that makes money from advertising. We have a modified experience for viewers using ad blockers

Wikia is not accessible if you've made further modifications. Remove the custom ad blocker rule(s) and the page will load as expected.