This article contains information about Ace Attorney media that has been released only in Japan.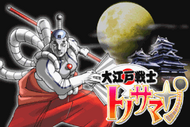 The information in this article comes from a game, demo, or other media that has been released in Japan, but not in any predominantly English-speaking country. The subject of this article has not been officially revealed for English versions of this media. English versions of this content are only available through unofficial translations, and names from these unofficial translations are not being used. More information on this can be found here.

If you have personal experience with the item of media in question, you can help the Ace Attorney Wiki by improving on this article. Please heed the manual of style when adding information.

The Prosecutorial Investigation Committee meeting room, located in the Big Tower skyscraper, is where the meetings of the Prosecutorial Investigation Committee are held.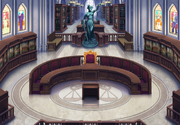 The room where the meetings commence, on the 50th floor of Big Tower, is one of the few revealed one of the few accessible locations within the building. There's a statue of Themis, the Greek Titan Goddess of Justice. It is where Edgeworth resigned as a prosecutor. The murder of Tsubasa Kagome occurred in the room.
There is also a hidden evidence room above it which stores evidence of past cases (including much of the evidence that was used in previous games). Bansai Ichiyanagi used to run an illegal auction and sell it to anonymous buyers. There's a secret elevator shaft that leads to the deliberation room underneath it.
Pleeeeeeeease expand meeeeeeee!
This article is a stub or is otherwise incomplete. You can help the Ace Attorney Wiki by expanding it.