This article contains information about Ace Attorney media that has been released only in Japan.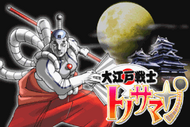 The information in this article comes from a game, demo, or other media that has been released in Japan, but not in any predominantly English-speaking country. The subject of this article has not been officially revealed for English versions of this media. English versions of this content are only available through unofficial translations, and names from these unofficial translations are not being used. More information on this can be found here.

If you have personal experience with the item of media in question, you can help the Ace Attorney Wiki by improving on this article. Please heed the manual of style when adding information.
This page contains a list of the character profiles in Miles Edgeworth's organizer for each case in Gyakuten Kenji 2.
→
Issei Tenkai
• Age: 39 → 57
• Gender: Male
My client in this case. Regarded as the world's greatest pastry chef.
Isaku Hyōdō
• Age: 38
• Gender: Male
The victim in this case. Found dead inside Mr. Tenkai's dessert.
Tyrell Badd
• Age: 42
• Gender: Male
Eagle-eyed homicide detective in charge of this case. The strong silent type.
→
Delicy Scone
• Age: ??
• Gender: Female
A pastry chef. Said to use any means to achieve her goals.↳A pastry chef. Her nickname is Ms. Delicious. Hails from England.
Pleeeeeeeease expand meeeeeeee!
This article is a stub or is otherwise incomplete. You can help the Ace Attorney Wiki by expanding it.