The Jammin' Ninja is a fictional character and popular TV series produced by Worldwide Studios. The TV series starred the titular character, his beloved Princess Misola, and his trademark red guitar. The lead role was played by Juan Corrida until his murder.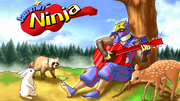 The show aired at 8 a.m. on Sundays, the same timeslot as Global Studios's The Nickel Samurai. The star of The Nickel Samurai, Matt Engarde, was a fierce rival of Corrida and was accused and convicted of his murder.
As described by Will Powers, the show is a remake of an old film and tells the story of an inept ninja with an enchanting ability to sing. It is with his voice that he manages to charm the Princess Misola, whom he must later rescue from the Muromachi Five. Tragedy strikes when he loses his voice before the third battle.
The Jammin' Ninja's trademark red guitar proved to be a major part of the investigation into his murder, as he "accidentally" left it at the studio.
Despite Corrida's death, the show appears to still be in existence as of March 2019 when a stage show version of the series was performed at the Cohdopian Embassy. Kay Faraday, a massive fan of the series, was present at the performance along with a reluctant Miles Edgeworth. This has led Edgeworth to think that Faraday would rather be a ninja than a thief.
Merchandise
Edit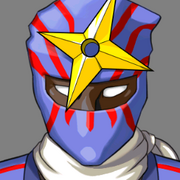 Much like with Global Studios' Samurai franchise, The Jammin' Ninja has various pieces of merchandise for sale, including hair sticks similar to those worn by Princess Misola on the show. Merchandise was seen being sold at the Cohdopian Embassy live stage show.
Despite apparently being a music-based show, the only known song from The Jammin' Ninja is "A Ninja Marked for Death's Lullaby".
Development
Edit
When playing fan English translation patch, examining the gas masks in the President's plane, Kay comments about the Jammin' Ninja, mentioning a villain with a "poison-tongue" called "Saimon Kowal". This is likely a reference to British television judge and producer Simon Cowell, who is well known for his sharp-tongued honesty towards contestants.