This article contains information about Ace Attorney media that has been released only in Japan.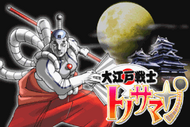 The information in this article comes from a game, demo, or other media that has been released in Japan, but not in any predominantly English-speaking country. The subject of this article has not been officially revealed for English versions of this media. English versions of this content are only available through unofficial translations, and names from these unofficial translations are not being used. More information on this can be found here.

If you have personal experience with the item of media in question, you can help the Ace Attorney Wiki by improving on this article. Please heed the manual of style when adding information.
Itami Hospital is the medical facility where Kay Faraday was treated after her fall at Big Tower. The hospital's director is Otome Itami, with her granddaughter Tōko Mutō working as one of the nurses.
"Itami" (痛み) is Japanese for "pain".
In the unofficial English fan translation patch for Gyakuten Kenji 2, the hospital is instead called the "Dye-Young Clinic"; a play on "die young". The name was likely chosen to keep in theme with the name pun in the original Japanese, as well as referring to Otome Itami, who goes by the name "Bonnie Young" in the translation.
Pleeeeeeeease expand meeeeeeee!
This article is a stub or is otherwise incomplete. You can help the Ace Attorney Wiki by expanding it.
Ad blocker interference detected!
Wikia is a free-to-use site that makes money from advertising. We have a modified experience for viewers using ad blockers

Wikia is not accessible if you've made further modifications. Remove the custom ad blocker rule(s) and the page will load as expected.