This article contains information about Ace Attorney media that has been released only in Japan.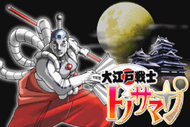 The information in this article comes from a game, demo, or other media that has been released in Japan, but not in any predominantly English-speaking country. The subject of this article has not been officially revealed for English versions of this media. English versions of this content are only available through unofficial translations, and names from these unofficial translations are not being used. More information on this can be found here.

If you have personal experience with the item of media in question, you can help the Ace Attorney Wiki by improving on this article. Please heed the manual of style when adding information.
We need more pieces to finish this puzzle.
This article is under construction. While it is not short, it still needs expansion as outlined in the manual of style. The article most likely needs expansion near the end of the tagged section or sections.
The IS-7 Incident refers to a murder that took place in the mansion of Issei Tenkai on December 23, 2000. It directly led to the DL-6 Incident and indirectly affected the SS-5 Incident. The incident revolved around the trial of a famous television chef, Issei Tenkai, who had been accused of killing Isaku Hyōdō. His defense attorney, Gregory Edgeworth, faced the infamous prosecutor Manfred von Karma. He lost the case, but he managed to prove that von Karma had to manipulate the autopsy report, since the victim's body was never found. As a result, Tenkai was charged with accomplice to murder instead and von Karma was given a penalty, the first and only one he had ever received. The case was put on hold for 18 years, because the witness and only other suspect, Yutaka Kazami, fled to Zheng Fa.
The Incident
Edit
Main article: The Inherited Turnabout
Gregory Edgeworth was hired by Issei Tenkai to prove his innocence. During the investigation Gregory encountered Tateyuki Shigaraki who would become his investigation partner. Bansai who was in a rush
Aftermath
Edit
Three years after DL-6 was resolved, Edgeworth, with the help of his father's old partner, Tateyuki Shigaraki, solved the IS-7 Incident and was able to find the real killer of Hyōdō, who turned out to be Kazami. The defendant, Issei Tenkai, was set free. It was supposed to have the same statute of limitations as the DL-6 Incident, but due to the witness fleeing the country, it was extended for 3 more years, and was extended one further year because Tenkai was convicted as an accomplice.
The day after this case was solved a new light was revealed about DL-6. Bansai Ichiyanagi said that he was the one who made Otome Itami forge the autopsy report. He was also the one responsible for giving Manfred von Karma his first penalty, which became the starting point of DL-6 leading onto the death of Gregory Edgeworth.
Ad blocker interference detected!
Wikia is a free-to-use site that makes money from advertising. We have a modified experience for viewers using ad blockers

Wikia is not accessible if you've made further modifications. Remove the custom ad blocker rule(s) and the page will load as expected.