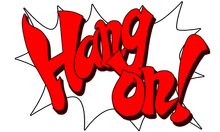 "Hang on!" is a speech bubble used by Phoenix Wright in Professor Layton vs. Phoenix Wright: Ace Attorney and Ryūnosuke Naruhodō in Dai Gyakuten Saiban: Naruhodō Ryūnosuke no Bōken. Said games feature multiple witnesses taking the stand at once, with each witness making one statement in their collective testimony; "Hang on!" is used when the protagonist notices that another witness is acting strangely to what is being said by the witness the defense is currently cross-examining, whereupon the defense changes their focus to the other witness.
Speech Bubbles
Edit
Characters going into Thought
Edit
Pleeeeeeeease expand meeeeeeee!
This article is a stub or is otherwise incomplete. You can help the Ace Attorney Wiki by expanding it.
Ad blocker interference detected!
Wikia is a free-to-use site that makes money from advertising. We have a modified experience for viewers using ad blockers

Wikia is not accessible if you've made further modifications. Remove the custom ad blocker rule(s) and the page will load as expected.