This article contains information about Ace Attorney media that has been released only in Japan.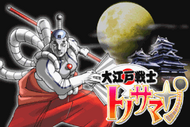 The information in this article comes from a game, demo, or other media that has been released in Japan, but not in any predominantly English-speaking country. The subject of this article has not been officially revealed for English versions of this media. English versions of this content are only available through unofficial translations, and names from these unofficial translations are not being used. More information on this can be found here.

If you have personal experience with the item of media in question, you can help the Ace Attorney Wiki by improving on this article. Please heed the manual of style when adding information.
For other hallways, see Hallway.
The hallway is the main area of the prison, connected to four prison cells and two workrooms. All of the doorways have sensors that react to electronic bracelets on the inmates, causing the bracelets to send an electric shock through them. This was to prevent unauthorized access to the workrooms or the detention center. The most prominent feature of the prison hallway is a playground for the inmates' pets as part of the prison's animal therapy program. The animals have tags that open doors for them, allowing them to roam freely in the prison. One of the cells belongs to Shūji Orinaka, a former boxer. A hole on the floor of Orinaka's cell led to a tunnel connected to a well in the prison courtyard.
The Supplier
Edit
When assassin Ryōken Hōinbō was arrested and sent to prison, he blackmailed the warden, Marī Miwa, into cooperating with him to smuggle various goods into the prison for the benefit of the inmates. Every week, Miwa would drop the items down the courtyard well, and Hōinbō's dog Kuro would take them through the tunnel to Hōinbō's special cell. She enlisted the aid of prisoner Frank Sahwit, who had accidentally broken his bracelet, getting him to cut the power temporarily during the deliveries in exchange for special treatment.
An unlucky sequence of events
Edit
Main article: The Imprisoned Turnabout
Over a period of weeks in 2019, Orinaka extended the tunnel connected to his cell using tools supplied to him by Hōinbō, in hopes of escaping. His tunnel extension eventually made it to the detention center's holding cell. In March, Manosuke Naitō was arrested and sent to the holding cell. Seeing his chance, Orinaka attacked Naitō and his guard escort the following day, and stole the keys to the holding cell. He then returned to his own cell so that Naitō would be blamed for stealing the keys, and waited for an opportunity to make his break. He then had Hōinbō arrange to have a guard uniform stolen so that he could disguise himself.
Orinaka's first escape attempt
Edit
A monthly circus animal show was scheduled for the next day, and Orinaka took this opportunity to escape. He left Mark, his pet polar bear cub, in Workroom B with Sahwit for grooming, then headed through his tunnel. Naitō's dead body was dropped into the well after Orinaka passed it, signaling Kuro to take it to Hōinbō. Surprised at this delivery, Hōinbō had his dog take the body to Workroom A instead, to avoid suspicion for murdering the potential new prisoner.
Meanwhile, Sahwit was applying a mudpack to Mark when the cub, missing its owner, bolted after him. As Sahwit chased after Mark, he glanced inside Workroom A and was terrified to see Kuro biting on Naitō's neck. After Kuro left, Sahwit searched the body for valuables, but had to attend a prison roll call before he could take anything. Orinaka, too, was forced to return to the prison after Mark caught up with him in the holding cell. Sahwit later returned to Workroom B and let out a scream, as if he had just discovered the body.
Murder investigation
Edit
Miles Edgeworth, the prosecutor in charge of Naitō's case, visited the detention center with detective Dick Gumshoe and Kay Faraday just as word was spreading about the discovery of Naitō's body. He was quickly followed by Tateyuki Shigaraki, Naitō's intended lawyer. As the two were investigating the scene, the Prosecutorial Investigation Committee sent judge Hakari Mikagami and prosecutor Yumihiko Ichiyanagi to the prison to take Edgeworth off the case. He was only able to question Orinaka before being forced to leave, while Orinaka was sent to a disciplinary cell. By the following day, the new investigators had arrested Naitō's friend Sōta Sarushiro, an employee of the Berry Big Circus who had participated in the monthly Animal Show, which had taken place during the murder.
Orinaka's second escape attempt
Edit
Not willing to give up, Edgeworth returned with Faraday the next day, this time as assistant to Shigaraki, who had taken on Sarushiro's case. They found Sahwit, who tried to cover up his actions during the incident, but failed due to Edgeworth's mind games. Orinaka was later sent back to his cell, and had made his escape by the time Edgeworth, Faraday and Shigaraki had returned with the police dog Missile to find out how the body had gotten to Workroom A. Missile led them to Orinaka's empty cell and uncovered the secret tunnel. Orinaka successfully blended in with the security guard uniform, but was exposed when Mark leaped on him.
Ad blocker interference detected!
Wikia is a free-to-use site that makes money from advertising. We have a modified experience for viewers using ad blockers

Wikia is not accessible if you've made further modifications. Remove the custom ad blocker rule(s) and the page will load as expected.