Gyakuten Saiban: Sono "Shinjitsu", Igiari!
Talk

11
This article contains information about Ace Attorney media that has been
recently released and thus likely contains spoilers!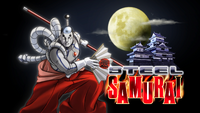 The information in this article comes from a game, demo, or other media that has been recently released worldwide. This article may need input from an editor who has personal experience with the media in question. If you have, you can help the Ace Attorney Wiki by expanding this article. Please heed the manual of style when adding information.

Readers of this page should be aware that this article likely contains MAJOR SPOILERS concerning the media in question.

You have been warned!
Gyakuten Saiban: Sono "Shinjitsu", Igiari! (逆転裁判 その『真実』、異議あり!; lit. Turnabout Trial: I Object to That "Truth"!"), is an animated adaptation of Capcom's Ace Attorney video game series. It was first announced at the 2015 Tokyo Game Show during Capcom's Phoenix Wright: Ace Attorney: Spirit of Justice stage presentation, and is planned to be an adaptation of Phoenix Wright: Ace Attorney and Phoenix Wright: Ace Attorney: Justice For All, the first two games in the series.[1]
The cast assignments were announced at Jump Festa 2015 on December 19.[1]
Main characters
Edit
Recurring characters
Edit
The First TurnaboutEdit
Turnabout SistersEdit
Turnabout SamuraiEdit
Turnabout GoodbyesEdit
Reunion, and TurnaboutEdit
Production staff
Edit
Episode list
Edit
No.
Screenshot
Title
Original airdate
1
"The First Turnabout"
April 2, 2016
Phoenix Wright, a rookie attorney of only three months, enters a murder trial in order to defend his childhood friend, Larry Butz, who is accused of killing his ex-girlfriend Cindy Stone. Prosecutor Winston Payne looks for an easy win, bringing with him damning evidence, but Wright believes he can do the impossible...
2
"Turnabout Sisters - 1st Trial"
April 9, 2016
Upon returning to the Fey & Co. Law Offices for a dinner appointment with Mia Fey and her younger sister Maya, Phoenix Wright stumbles upon the grisly scene of his boss's body, who has been bludgeoned to death. A note found by the body with Maya's name written in blood prompts detective Dick Gumshoe to immediately arrest the girl and charge her with her sister's murder. At her most desperate hour, who will rise up to help her?
3
"Turnabout Sisters - 2nd Trial"
April 16, 2016
The trial of Maya Fey for the murder of her sister Mia is under way, and Wright is pitted against prodigy prosecutor Miles Edgeworth. Hope seems lost, but with flimsy testimonies and a questionable witness, things are not as straightforward as they appear. A promising lead points Wright in the direction of shady Bluecorp CEO Redd White, but just how far does this man's influence reach?
4
"Turnabout Sisters - Last Trial"
April 23, 2016
Due to Redd White's influence and connections, Phoenix Wright is indicted for the murder of his boss. Wright's only chance to avoid a guilty verdict is to expose White as Mia's true killer in court, a task made all the more difficult by Miles Edgeworth's ruthless prosecuting tactics. Wright is backed into a corner, but a little help from a spirit medium may be just what he needs to turn things around...
5
"Turnabout Samurai - 1st Trial"
April 30, 2016
When an actor in the popular children's television show The Steel Samurai: Warrior of Neo Olde Tokyo is found murdered, the prime suspect is star Will Powers. To Maya, the series' newest fan, this looks like the perfect first case for the Wright & Co. Law Offices. However, a crotchety security woman won't make things simple for them.
6
"Turnabout Samurai - 2nd Trial"
May 7, 2016
Wright and Maya manage to buy themselves some time to find Hammer's true murderer when additional suspects come to light. They find themselves faced with a cavalcade of eccentric characters, all of whom appear to have an alibi for the time of the murder. Luckily for them, a decisive piece of evidence comes from the most unlikely of places.
7
"Turnabout Samurai - Last Trial"
May 14, 2016
As the trial of the Steel Samurai reaches its last day, Phoenix knows the true killer's identity. The question is, can he prove it? It won't be easy, with a calm and collected witness like Dee Vasquez on the stand. He'll need all the help he can get, whether it comes from Wendy Oldbag, Cody Hackins, or even Prosecutor Edgeworth himself.
8
"Turnabout Goodbyes - 1st Trial"
May 21, 2016
Miles Edgeworth stands accused of murder, and only Phoenix Wright is willing to defend him! The victim is linked to a fifteen-year-old case, DL-6, involving the murder of Edgeworth's father. Did the prosecutor take the law into his own hands and kill the attorney responsible for the culprit's acquittal?
9
"Turnabout Goodbyes - 2nd Trial"
May 28, 2016
The trial of Miles Edgeworth begins, with Wright squaring off against Edgeworth's mentor, Manfred von Karma – a prosecutor with a forty-year unblemished record. Against such a fearsome foe, only a sacrifice can buy enough wiggle room for Wright to poke holes in the prosecutor's airtight case!
10
"Turnabout Goodbyes - 3rd Trial"
June 4, 2016
A true eyewitness to the murder on Gourd Lake surfaces! Only luck, friendship, and a spanner in the works can uncover the contradictions in von Karma's case and lead to a most surprising turnaround.
11
"Turnabout Goodbyes - 4th Trial"
June 11, 2016
Wright reveals his motivation for pursuing his profession, while a most unusual witness helps crack the case and solve the Gourd Lake murder. But, is Wright just playing into von Karma's hands?
12
"Turnabout Goodbyes - Last Trial"
June 18, 2016
The tragedy behind DL-6 is revealed, as Manfred von Karma reveals his endgame.
13
"Turnabout Promise"
June 25, 2016
After school on the day of the class trial, Phoenix Wright and his newfound friends, Miles Edgeworth and Larry Butz, stumble upon another mystery: an abandoned dog on the streets. When the owner refuses to take the poor pup back, the boys must take matters into their own hands. All the while, the trio forge a friendship to last a lifetime
14
"Reunion and Turnabout - 1st Trial"
July 9, 2016
Wright visits Maya's hometown, Kurain Village, together with Dr. Turner Grey, who wants to summon the spirit of Mimi Miney. Ini Miney, Mimi's sister, recommended Maya Fey to summon her sister's spirit. At the village, Wright meets the little Pearl Fey, Maya's aunt Morgan Fey and Lotta Hart. As Maya and Dr. Grey go into the Channeling Chamber, Wright and Hart hear gunfire. They break down the door, only to find Dr. Grey murdered. Maya is accused of murder and arrested, and Wright must defend her in court.
15
"Reunion and Turnabout - 2nd Trial"
July 16, 2016
16
"Reunion and Turnabout - 3rd Trial"
July 23, 2016
17
"Reunion and Turnabout - Last Trial"
July 30, 2016
18
"Turnabout Big Top - 1st Trial"
August 6, 2016
19
"Turnabout Big Top - 2nd Trial"
August 13, 2016
20
"Turnabout Big Top - Last Trial"
August 20, 2016
21
"Farewell, My Turnabout - 1st Trial"
September 3, 2016
22
"Farewell, My Turnabout - 2nd Trial"
September 10, 2016
23
"Farewell, My Turnabout - 3rd Trial"
September 17, 2016
24
"Farewell, My Turnabout - Last Trial"
September 24, 2016
The anime premiered in Japan on April 2, 2016,[2][3][4] with new episodes airing weekly on Saturdays. Outside Asia, the streaming site Crunchyroll provides two subtitled versions for online viewing on the same day for premium members, and one week later for everyone else; one version using the original Japanese character names and the other substituting them for the localized versions (e.g., "Phoenix Wright" instead of "Ryūichi Naruhodō").[5].
Promotional art
Edit
Character artwork
Edit
Differences from the games
Edit
Phoenix Wright: Ace Attorney saga Edit
Phoenix Wright: Ace Attorney: Justice for All saga Edit
Miscellaneous
Edit
References
Edit
↑ 1.0 1.1 Ace Attorney Anime: Director and Cast announced (original article provided by Oricon), Court-Records.net, Retrieved Dec. 19, 2015.
↑ Lite_Agent (2015-09-17). "(TGS 15) Ace Attorney 6: first trailer and additional details; anime series announced". Perfectly Nintendo. Retrieved 2015-09-17.
↑ rawmeatcowboy (2015-09-17). "Ace Attorney series getting anime adaptation". GoNintendo. Retrieved 2015-09-17.
↑ "「逆転裁判」シリーズ初となるアニメ『逆転裁判』が地上波でのテレビ放送が決定!放送は、2016年4月~。続報を待て! #gyakuten #カプコンTGS". Official Gyakuten Saiban Twitter. Retrieved 2015-09-20.
↑ Guest Author(2016-04-01). "Crunchyroll Adds 'Ace Attorney' to Spring Anime Season!". Crunchyroll. Retrieved 2016-04-01.
External links
Edit