"Henri" redirects here. For additional meanings, please see Henri (disambiguation).
This article contains information about Ace Attorney media that has been released only in Japan.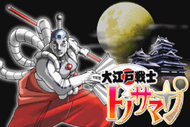 The information in this article comes from a game, demo, or other media that has been released in Japan, but not in any predominantly English-speaking country. The subject of this article has not been officially revealed for English versions of this media. English versions of this content are only available through unofficial translations, and names from these unofficial translations are not being used. More information on this can be found here.

If you have personal experience with the item of media in question, you can help the Ace Attorney Wiki by improving on this article. Please heed the manual of style when adding information.

Gregory Edgeworth
Link to the template page

Aliases/nicknames

213228

*

(attorney's badge number)

Sir Lawyer

*

(by Yutaka Kazami)

Occupation
Defense attorney ( - Dec. 28, 2001)
Names in other languages
Japanese

*

(romanization written with the given name first)

御剣信 (Shin Mitsurugi)
信さん / シンさん (Shin-san)

*

(by Issei Tenkai and Tateyuki Shigaraki)


シンくん (Shin-kun)

*

(by Delicy Scone)


御剣弁護士さま (Mitsurugi-bengoshi-sama)

*

(by Tsukasa Oyashiki)


弁護士 (Bengoshi)

*

(by Gou Karuma; lit. defense attorney)
French
Henri Hunter
German
Gregory Edgeworth
Spanish
Gregory Edgeworth
Italian
Gregory Edgeworth
Biological information
Reckoned birth year(s)

(this is for age comparison purposes, and so may look odd; click on the question mark for details)

?
1966-1967
Documented age range

(as recorded in court record profiles and case files)

34

*

(IS-7 Incident)

- 35

*

(DL-6 Incident)

Status

*

(last known)

Deceased (Dec. 28, 2001)
Eye color
Brown
Hair color
Black, graying
Height

*

(from official guidebooks)

5'8"; 176 cm
Associates
Family
Miles Edgeworth (son)
An unnamed sister or sister-in-law (Miles' aunt)
Friends
Tateyuki Shigaraki (protégé)
Affiliates
Tyrell Badd (detective and investigative partner)
Issei Tenkai (final client)
Manfred von Karma (rival prosecutor; deceased)
Yanni Yogi (court bailiff)
Actors
Musical

*

(romanization written with the given name first)

Yuuya Hasumi
Film

*

(romanization written with the given name first)

Takehiro Hira
Anime

*

(romanization written with the given name first)

Kyūnosuke Watanuki
Miscellaneous
Debut episode
Turnabout Goodbyes (allusions)
The Inherited Turnabout (in person)
Leitmotif
"Reminiscing ~ The DL-6 Incident"
"Gregory Edgeworth ~ Defense Attorney's Knowledge"
"Reminiscing ~ The IS-7 Incident"
"Miles Edgeworth ~ Objection! 2011"

*

(Gyakuten Kenji 2)
He was a gifted man. His death was truly a loss. I wonder what would have become of von Karma were he alive...
Gregory Edgeworth was a well-known veteran defense attorney, the head of the Edgeworth Law Offices, and the father of Miles Edgeworth. He was the victim of the DL-6 Incident.
Father and son
Edit
That's when I heard his father was a defense attorney. I remember, his eyes would shine when he talked about his father.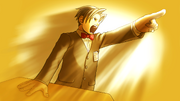 Gregory Edgeworth was a very talented criminal defense attorney and his son Miles idolized him. Such was this adoration that Miles wanted someday to become a defense attorney just like his father, and even intervened in a class trial to defend an innocent classmate accused of stealing his own lunch money. He objected to the accusation because there was no proof of who the culprit was. The boy was found innocent, and when asked why Miles had defended him, the aspiring defense attorney cited his father as his inspiration.
Confronting von Karma
Edit
Main articles: IS-7 Incident and The Inherited Turnabout
In December 2000, Gregory took on the case of Issei Tenkai, a famous television chef. He was aided in his investigation by Tateyuki Shigaraki, a young man who idolized him. The case was would later officially become known as the "IS-7 Incident".
During his investigation into the crime, Gregory butted heads with Manfred von Karma, a legendary prosecutor with a perfect win record. As he and Shigaraki became more involved in the case, he realized that von Karma wasn't just keeping him away from the scene because he didn't want the defense gaining any sort of advance; he was actively trying to hide something. Even Tyrell Badd, the detective who was supposed to lead the investigation, was continually stymied by von Karma's authority, and he eventually decided to ally with Gregory. Eventually, Gregory was able to figure out what von Karma was hiding; the body of the victim had disappeared before an autopsy could be carried out.
During the subsequent trial, Gregory accused von Karma of hiding the disappearance of the body. However, von Karma produced a falsified autopsy report, verified by the police, and so the trial continued for a year. Eventually, Tenkai confessed to being an accomplice to the murder, but with Badd's help, Gregory revealed that the confession had been coerced. Although Gregory still lost the case, this bombshell revelation gave Manfred von Karma the only penalty on his "perfect" record, which enraged the perfection-obsessed prosecutor. The majority of the blame was shifted onto the Detective Wataru Shirase, who was subsequently fired.
Main article: DL-6 Incident
You and your father are my curse! Your father shamed me with a penalty on my record! And you ...you left a scar on my shoulder that would never fade! I... I'll bury you! I'll bury you with my bare hands! Death! Death!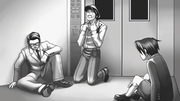 After the trial, Gregory and Miles proceeded to leave the courthouse, accompanied by Yanni Yogi, a court bailiff. Gregory hoped to get a retrial for his client. However, an earthquake struck the building and shut the power down, leaving the three stranded in an elevator for five hours. Eventually, the oxygen supply diminished, and Yogi started to panic. The two men fought, leaving Miles to try and stop them by throwing Yogi's pistol, which had been loosened from the man's belt. The gun went off, hitting von Karma, who had wandered in front of the elevator door. Just then, the elevator door opened; already outraged by his penalty and in shock from his wound, von Karma picked up the gun and, finding all three of the elevator's occupants passed out, shot Gregory. Gregory Edgeworth died, never knowing who had killed him. His spirit later spoke through a spirit medium named Misty Fey, blaming Yanni Yogi for the murder.
Yogi was able to escape conviction by following his lawyer's advice and pleading temporary insanity, but the incident ruined his life. The incident also caused Fey to appear to be a fraud. Gregory's murder had a drastic effect on his son Miles, too; he developed a hatred for defense attorneys and spirit mediums, and was adopted by von Karma, who raised him in Germany to be a prosecutor. Miles also began to have nightmares about his father's murder and to believe that he might have accidentally killed Gregory when he threw the pistol. The real killer was not revealed until fifteen years later, when Miles's childhood friend Phoenix Wright defeated von Karma in court by proving the prosecutor to be the true culprit.
Shigaraki inherited Gregory's law firm and tried to get Tenkai acquitted through a retrial, but although von Karma had left the case in the hands of a different prosecutor, the retrial did not go anywhere due to a lack of new evidence. Tenkai thus remained in prison until 18 years later, when another incident brought all of the living individuals from the IS-7 Incident back together. Miles and Shigaraki used this opportunity to solve the IS-7 Incident once and for all by revealing the true culprit. Throughout this investigation and others, Shigaraki offered Miles a chance to become a defense attorney like his father. However, although Miles had learned the true meaning of saving people, he decided to carry his father's legacy as a prosecutor, protecting people from contradictions in, and abuses of, the law.
Personality
Edit

Gregory Edgeworth was the kind of defense attorney who was not afraid to stand up against corruption. This could be seen both in his in-court confrontation with von Karma and in Miles' admiration of him. He used a calm, methodical approach to his investigations, preferring to use logic and confront witnesses directly at the scene. He refrained from judging others until he saw what they were like face-to-face. He also had a rather serious, professional demeanor at all times, only smiling when he made a wrong deduction, though this was really more of a nervous grin. Miles inherited many of his father's methods, though he would come off as cold and ruthless due to his relative lack of tact.
Though Gregory and Shigaraki only investigated together for the IS-7 Incident, that one investigation left a strong impression. Gregory appreciated Shigaraki's enthusiasm and dedication, though he was about as confused as everyone else by the young man's habit of eating his notes. Gregory gladly had Shigaraki stand by his side during the IS-7 trial, and promised to give his trench coat to the young man once he became an attorney himself. After Gregory's death, Shigaraki indeed inherited the coat, as well as Gregory Edgeworth's law firm and his hat. Indeed, Shigaraki could still be seen wearing said hat during his meeting with Miles in 2019.
Gregory didn't know much about what was popular with children, as his own son was more into reading textbooks than watching TV or having friends. He thought of Miles once in a while during his investigations, sometimes looking at certain objects and thinking to himself, "Maybe my son would enjoy this."
"Gregory" possibly comes from Gregory Peck, the actor who played the defense lawyer and central character Atticus Finch in the 1962 film adaptation of To Kill a Mockingbird. Gregory Edgeworth even bears a resemblance to Peck's portrayal of Atticus Finch.
"Edgeworth" may come from "edge of a sword", just like his Japanese surname "Mitsurugi" (御剣), which contains the kanji for sword. This may be a reference to both Gregory and Miles Edgeworth having sharp minds and being "worthy" opponents for Manfred von Karma and Phoenix Wright, respectively.
His Japanese given name "Shin" (信) means "trust", "faith", or "belief".
"Henri" is the French equivalent of "Henry", which means "home ruler".