We need more pieces to finish this puzzle.
This article is under construction. While it is not short, it still needs expansion as outlined in the manual of style. The article most likely needs expansion near the end of the tagged section or sections.
Global Studios is a television network known for children's shows such as The Steel Samurai: Warrior of Neo Olde Tokyo and its spin-offs.
Early history and accident
Edit
Once a small-time studio with great inspirations, Global Studios first hit the big time with the arrival of a enigmatic and charismatic producer called Dee Vasquez and rising star Jack Hammer. Following both the studio's and Hammer's meteoric rise to popular and critical acclaim with various samurai themed films and television series, a terrible accident occurred during the filming of a scene in Studio 2 of the studios, wherein Hammer accidentally caused the death of another actor. Through Vasquez's links to the mafia, a paparazzo was silenced and the incident swept under the carpet, though Wendy Oldbag would manage to get her hands on the paparazzo's photo of the incident.
Aftermath of the accident
Edit
The damage to Hammer was irreparable. Racked with guilt, he allowed himself to be blackmailed by Vasquez into playing bit parts for humiliating pay, especially villains. This vicious circle continued for five years in which Global had another string of major hits, most notably The Steel Samurai: Warrior of Neo Olde Tokyo (created by Sal Manella) in which Hammer played the villain, the Evil Magistrate. This eventually led to Hammer attempting to kill Vasquez and ending up dead himself instead. Global Studios considered ending children's programming altogether, but Phoenix Wright convinced Penny Nichols that the network's fanbase was worth keeping the programming.
Following Hammer's death, the imprisonment of Vasquez for manslaughter and the dropping of all charges on TV star Will Powers, Manella continued to come out with major hit TV shows such as The Pink Princess: Warrior of Little Olde Tokyo (again starring Powers).
After The Pink Princess, Global Studios created another sequel, The Nickel Samurai, starring Matt Engarde, but this too was cancelled, due to Engarde committing murder. Although The Steel Samurai show itself had been cancelled, its popularity ensured that a number of projects, including a stage show, would continue the Steel Samurai's story. Sal Manella has also been overheard planning a possible film outing for the character as well.
Main article: The Grand Turnabout
This article contains information about Ace Attorney media that has been released only in Japan.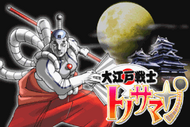 The information in this article comes from a game, demo, or other media that has been released in Japan, but not in any predominantly English-speaking country. The subject of this article has not been officially revealed for English versions of this media. English versions of this content are only available through unofficial translations, and names from these unofficial translations are not being used. More information on this can be found here.

If you have personal experience with the item of media in question, you can help the Ace Attorney Wiki by improving on this article. Please heed the manual of style when adding information.
In 2019, Global Studios began filming The Great Monster Borumosu VS Gourdy, a revival of a classic monster movie franchise, with the bovine monster Borumosu fighting the Gourd Lake monster Gourdy. The movie starred Will Powers in the Borumosu suit, with the child actor Shimon Aizawa as a boy who can telepathically communicate with Borumosu by drinking fresh milk. It became a great success due to a murder which happened at Global Studios' makeshift filming lot near the Big Tower skyscraper.
The studios' name in the Japanese version is "Eito Satsueijo" (英都撮影所). This may be a reference to the Toei Company, who are well-known for producing tokusatsu.