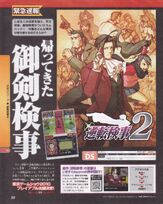 Famitsū (ファミ通) (formerly Famicom Tsūshin) is a Japanese video game magazine published by Enterbrain and Tokuma Shoten. Currently, there are five console-only spin-off versions of Famitsū: Shūkan Famitsū, Famitsū PS, Famitsū Xbox, Famitsū Wii+DS, and Famitsū Wave DVD. Shūkan Famitsū (週刊ファミ通, lit. "Weekly Famitsū"), the original Famitsū publication, is considered the most widely read and respected video game news magazine in Japan.
Pleeeeeeeease expand meeeeeeee!
This article is a stub or is otherwise incomplete. You can help the Ace Attorney Wiki by expanding it.
Ad blocker interference detected!
Wikia is a free-to-use site that makes money from advertising. We have a modified experience for viewers using ad blockers

Wikia is not accessible if you've made further modifications. Remove the custom ad blocker rule(s) and the page will load as expected.