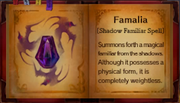 Famalia is listed in the Grand Grimoire as one of the possible spells usable by witches in Labyrinthia. It is described as summoning a shadow familiar that possesses a physical form but is completely weightless.
Its English name simply comes from "familiar".
Pleeeeeeeease expand meeeeeeee!
This article is a stub or is otherwise incomplete. You can help the Ace Attorney Wiki by expanding it.