This article contains information about Ace Attorney media that has been released only in Japan.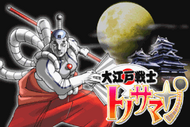 The information in this article comes from a game, demo, or other media that has been released in Japan, but not in any predominantly English-speaking country. The subject of this article has not been officially revealed for English versions of this media. English versions of this content are only available through unofficial translations, and names from these unofficial translations are not being used. More information on this can be found here.

If you have personal experience with the item of media in question, you can help the Ace Attorney Wiki by improving on this article. Please heed the manual of style when adding information.
You know, Nick... We've all been in here one time or another, haven't we?
I guess it comes with the territory.
I'm not sure it's something we should mention to too many people...
The detention center is an institution used to hold criminal suspects and contains holding cells for this purpose. Visitors, usually close friends, relatives, or defense attorneys, can meet with suspects and prisoners in the visitor's room. One exit leads to the prison, while another leads to the administrative offices, including the warden's office.
Holding cells
Edit
The main purpose of the detention center is to detain suspects temporarily, whether for a short sentence or while awaiting trial. The cells are monitored by guards and a security camera, though this surveillance is rather lacking and noteworthy events have occurred that have apparently gone unnoticed.
Visitor's room
Edit
Visitations are conducted in a partitioned room. There are strict regulations in place for visitations, as well as surveillance by a security camera and a guard. However, regulations are often bent, mostly for the sake of defense attorneys and public officials. Nonetheless, the visitor's room is at least much better monitored than the holding cells.
The detention center's hallway mainly contains lockers for the guards. The three doorways out of the detention center have security gates to secure the passage of people through the detention center. However, incoming packages undergo a simpler security check than people.
Marī Miwa was the warden for a few years until a series of events led to her arrest for murder in March 2019. Her trial began on April 6, 2019 and resulted in a conviction.