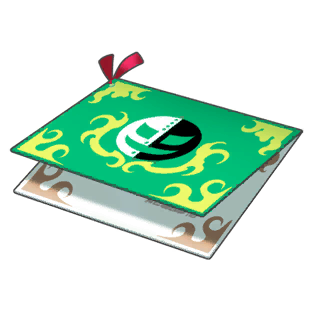 DeMasque's Calling Card was the last card the infamous thief Mask☆DeMasque sent before his final heist, namely the theft of Kurain Village's Sacred Urn. It was delivered to Lordly Tailor's security during their "Treasures of Kurain" exhibit.
To the Security at Lordly Tailor.

I will be coming to purloin the most
priceless work of art on display in
your "Treasures of Kurain" exhibit.

Take good care of the speckled
urn, won't you...?

Yours truly,
Mask☆DeMasque
DeMasque's modus operandi
Edit
Before each one of his heists, Mask☆DeMasque would always send a calling card announcing which item he would steal. Every time a victim received one of these cards, they immediately reported it to the police. The police treated the emblem as top-secret information, so as to prevent fake calling cards.
Pleeeeeeeease expand meeeeeeee!
This article is a stub or is otherwise incomplete. You can help the Ace Attorney Wiki by expanding it.
Ad blocker interference detected!
Wikia is a free-to-use site that makes money from advertising. We have a modified experience for viewers using ad blockers

Wikia is not accessible if you've made further modifications. Remove the custom ad blocker rule(s) and the page will load as expected.