Cohdopian Embassy
Talk

0
718pages on
this wiki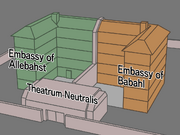 The Cohdopian Embassy is the embassy of Cohdopia to the United States. The building is designed to be bilaterally symmetrical. After the division into Allebahst and Babahl, a massive wall was built, dividing the two countries. The embassy was also separated into an Allebahstian part and a Babahlese part.
Between the two was the Theatrum Neutralis, a neutral theatre on American soil where shows could be put on, including stage shows of both the Steel Samurai and the Jammin' Ninja.
The second KG-8 Incident
Edit
Main article: Turnabout Reminiscence
In 2011, Deid Mann, an employee at the embassy, was gunned down by Mack Rell under the orders of someone claiming to be the Great Thief Yatagarasu. Mann was about to testify about an international smuggling ring.
Reunification
Edit
Main article: Turnabout Ablaze
We need more pieces to finish this puzzle.
This article is under construction. While it is not short, it still needs expansion as outlined in the manual of style. The article most likely needs expansion near the end of the tagged section or sections. The user who tagged this article or section may have left commented notes, which the new rich text editor may not show.