This article contains information about Ace Attorney media that has been released only in Japan.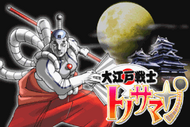 The information in this article comes from a game, demo, or other media that has been released in Japan, but not in any predominantly English-speaking country. The subject of this article has not been officially revealed for English versions of this media. English versions of this content are only available through unofficial translations, and names from these unofficial translations are not being used. More information on this can be found here.

If you have personal experience with the item of media in question, you can help the Ace Attorney Wiki by improving on this article. Please heed the manual of style when adding information.
We need more pieces to finish this puzzle.
This article is under construction. While it is not short, it still needs expansion as outlined in the manual of style. The article most likely needs expansion near the end of the tagged section or sections.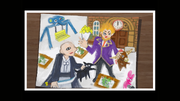 The child's picture was a crude drawing by Sōta Sarushiro of the assassination of Teikun Ō by Ryōken Hōinbō while Sarushiro was in the care of the Happy Family Home orphanage. The drawing was a vital piece in eventually solving the murder, which was referred to by the police as the SS-5 Incident.
Main article: SS-5 Incident
A young Sōta Sarushiro was having trouble sleeping and so decided to go for a wander. However, during his walk he came across a confrontation between Zheng Fa president Teikun Ō and the assassin Ryōken Hōinbō in the orphanage's grounds; this scene would be that immortalized in his drawing. After Ō's death, the president's body double took over his identity, having been one of the three conspirators alongside Bansai Ichiyanagi and Marī Miwa who had hired Hōinbō in the first place. However, Sarushiro overheard that they were planning to kill Hōinbō, and so warned the assassin so that he could escape.
The drawing's fate
Edit
Miwa, the only suspect for Ō's "kidnapping", was found Not Guilty due to Ichiyanagi disposing of the evidence incriminating her. Miwa eventually found out about Sarushiro's drawing however. Fearful that this drawing could expose her, Miwa tried to intimidate and threaten him into handing it over, but only succeeded in making him run away from the orphanage full of resentment and hatred towards her, Ichiyanagi, and the body double. However Sarushiro did neglect to bring the drawing with him.
Dai-Long Lang eventually found the drawing at an unknown point during his investigation into Ō's "kidnapping". This was taken in as evidence by Lang, along with the doll that Ō had been carrying at the time of his murder, and kept safe for 12 years. The drawing revealed to Lang what had really happened, thereby convincing him that the real president was dead.