Charley
Link to the template page

Aliases/nicknames

Cordyline stricta

*

(scientific name)

Mr. Charley

*

(by Trucy Wright and Apollo Justice)

His High Leafiness

*

(by Apollo Justice)

Occupation
House plant
Names in other languages
Japanese

*

(romanization written with the given name first)

チャーリー (Chaarii/Charley)
French
Charley
German
Charley
Spanish
Charley
Italian
Charley
Biological information
Reckoned birth year(s)

(this is for age comparison purposes, and so may look odd; click on the question mark for details)

?
Unknown
Documented age range

(as recorded in court record profiles and case files)

At least 10 years old

*

(age at debut)

Status

*

(last known)

Alive
Eye color
N/A
Hair color
N/A
Height

*

(from official guidebooks)

??? cm
Associates
Family
N/A
Friends
N/A
Affiliates
Mia Fey (original owner; deceased)
Phoenix Wright (current owner)
Maya Fey (caregiver)
Ema Skye (caregiver)
Trucy Wright (caregiver)
Apollo Justice (caregiver)
Athena Cykes (caregiver)
Miscellaneous
Debut episode
Turnabout Sisters
Charley. A quite decorative plant. He's a handful, but I've grown quite attached to the little fella. He also helps me to remember all the good times with Mia.
Charley is a potted plant of the species Cordyline stricta (also known as the Slender Palm Lily, or Narrow-leaved Palm Lily) that has been in the Wright Anything Agency ever since the agency's founding by Mia Fey as the law office, Fey & Co. Law Offices. Mia loved the plant, even giving it its name, and going as far as to make it the firm's official mascot. After Mia's death, her student, Phoenix Wright, inherited the offices and left it about the same as it was in Mia's time, including keeping and taking care of Charley. However, Wright did not find out about the name until a month later, when Mia Fey's sister Maya Fey channeled Mia and it came up in a conversation between the two.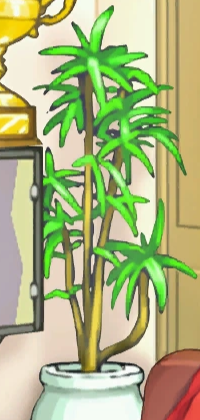 Charley has been subjected to Maya Fey's overenthusiastic watering, which has resulted in the plant looking a little "swollen" and has led Wright to wonder if Maya was perfecting her water torture technique on the defenseless plant. Ema Skye's well-meaning attempts to improve Charley with an unknown additive resulted in the plant appearing a little yellow. Despite these unintentional attempts on its life, Charley has seen the office it resides in through Wright's entire career and even after Wright was disbarred. He would stare at Charley and smile, and has sometimes been caught by Athena Cykes. Wright doesn't talk about Charley that much.
The presence of Charley has shown an unexpected botanical knowledge in Dick Gumshoe, who quickly chipped in with the plant's scientific name while Wright was trying to identify it the day after Mia's murder.