Celeste Inpax
Talk

0
713pages on
this wiki
Celeste Inpax
Template page
Japanese name

*

天野由利恵 (Yurie Amano)
French name
Céleste Lavoute
German name
Celeste Inpax
Spanish name
Celeste Inpax
Italian name
Celeste Inpax
Age during debut
Early 20s (deceased)
Height

*

??? cm
Eye color
Brown
Hair color
Dark brown

Born

Sometime in the 1990s

Died

2016
Occupation
Manager to Matt Engarde
Manager to Juan Corrida

Family

None mentioned
Friends
Juan Corrida (Ex-fiancé and client)
Adrian Andrews (Friend and protégé)
Affiliates
Matt Engarde (Former lover and client)
Debut episode
Farewell, My Turnabout (allusion)
Celeste Inpax was Adrian Andrews's mentor, former lover to Matt Engarde and Juan Corrida's fiancé. She committed suicide when Juan Corrida called off their wedding. Her suicide played a large role in Juan Corrida's murder two years later.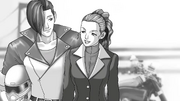 Celeste Inpax and Adrian Andrews worked at Global Studios together. Inpax was Andrews's mentor, but Andrews began to develop an unhealthy dependence on Inpax.
Celeste Inpax was also the manager to actor Matt Engarde. The two were dating, though in reality, Engarde was merely using Inpax to build his career before ending their relationship. Celeste was oblivious and was just plainly infatuated with Matt Engarde. Soon after, Inpax became the manager of Engarde's rival, Juan Corrida, and the two eventually became engaged. Upon learning this, Engarde intended to hurt his rival by revealing to him their past relationship days after their wedding announcement. Corrida immediately canceled the wedding. Shattered by this, Inpax was driven to suicide by hanging.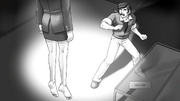 Corrida discovered the body first and saw his chance to ruin Engarde. He forged a suicide note to use later, and then hid it within a bear-shaped puzzle box, an object that only Andrews would come to know how to open. The note mentioned the misdeeds of Matt Engarde that had eventually driven her to her death; Corrida intended to disguise himself as Engarde (dressed up as the Nickel Samurai) and attend a press conference in which he would reveal the note and expose Engarde as a manipulative individual.
Suspicions were soon made on the basis of Inpax's missing suicide note and rumors surfaced that Corrida had hidden it from the public.
Aftermath
Edit
Inpax's suicide had a direct effect on Adrian Andrews. She became lost and vulnerable without her mentor and eventually attempted suicide herself. When her attempt had failed, Andrews started attending counseling sessions. Before long, tabloids began to report rumors of Andrews and her intimacy with Corrida, digging up information about Inpax's suicide as a result. This was actually a biding attempt to obtain Inpax's suicide note from him so that she could burn it and preserve her mentor's dignity.
At the third annual Hero of Heroes Grand Prix, Corrida tried to put his plan into action. However, Engarde found out about the plan and hired an assassin to kill his rival in order to preserve his "refreshing as a spring breeze" image to the public. Engarde was first tried as the killer, and then he was tried and convicted of hiring the assassin.
Her Japanese surname, "Amano", means "of heaven". This is probably a reference to her being deceased.
"Celeste" and "Céleste" come from the Latin word "caelestis", meaning "heavenly". They were probably chosen because of her celestial-based Japanese surname. "Céleste" is even the French word for "celestial".
"Pax" is the Latin word for "peace", which would make her name "Celeste Inpeace", which sounds similar to "rest in peace", referencing her death.
Her full English name, "Celeste Inpax", could also be a play on "celestial impact". This could be a reference to the conflict between Juan Corrida and Matt Engarde, two television "stars".
Her full French name may be a play on "la voûte céleste", which means "canopy of heaven" (in reference to the visible part of the celestial sphere).