We need more pieces to finish this puzzle.
This article is under construction. While it is not short, it still needs expansion as outlined in the manual of style. The article most likely needs expansion near the end of the tagged section or sections.

Sister Bikini
Link to the template page

Aliases/nicknames

Bikini

*

(real name unknown)

One-off nicknames

Ms. Honcho

*

(by Miles Edgeworth)

Occupation
Head nun at Hazakura Temple
Names in other languages
Japanese

*

(romanization written with the given name first)

毘忌尼 (Bikini)
French
Bikini
German
Bikini
Spanish
Bikini
Italian
Bikini
Biological information
Reckoned birth year(s)

(this is for age comparison purposes, and so may look odd; click on the question mark for details)

?
1970-1971
Documented age range

(as recorded in court record profiles and case files)

48

*

(Bridge to the Turnabout)

Status

*

(last known)

Alive
Eye color
Brown
Hair color
Unknown (covered by hood)
Height

*

(from official guidebooks)

4'7"; 140 cm
Associates
Family
Ami Fey (ancestor; deceased)
Iris (adoptive daughter and fellow member of Fey Clan)
Morgan Fey (fellow member of Fey Clan)
Misty Fey (guest and fellow member of Fey Clan)
Mia Fey (fellow member of Fey Clan)
Maya Fey (guest and fellow member of Fey Clan)
Dahlia Hawthorne (fellow member of Fey Clan)
Pearl Fey (guest and fellow member of Fey Clan)
Fey clan
Friends
None mentioned
Affiliates
Phoenix Wright (guest and Iris' defense attorney)
Miles Edgeworth (Iris' temporary defense attorney)
Hazakura Temple
Miscellaneous
Debut episode
Bridge to the Turnabout
Leitmotif
"Hazakura Temple"
That's riiight! Actually, that's my "temple" name. What do you think? It's a tradition to have one, and I wanted something that has a nice image to it. So I thought, "Why not choose a bikini?" Besides, it makes me seem younger. Wa ha ha ha! Ho ho ho!
Sister Bikini is the loud, motherly, and quirky head nun of Hazakura Temple who takes care of acolytes undergoing training there. Bikini is part of one of the Fey clan branch families whose duty is to protect the Master of the Kurain Channeling Technique. She was the first witness in the case against Iris.
Misty Fey, the Master of the Kurain Channeling Technique, left Kurain Village following the DL-6 Incident, because of which she was seen as a fraud. Some time after that, Morgan Fey's husband left her, taking their two twin daughters with him. However, not wanting both twins, he took one of them, Iris, to Hazakura Temple to be raised by Bikini. Bikini and Iris thus lived together in the temple for the next two decades, with the head nun raising the young girl as if she were her own daughter, and Iris, in turn, coming to view Bikini as her mother.
Main article: Bridge to the Turnabout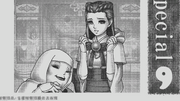 When Hazakura Temple was advertised in the magazine Oh! Cult!, several individuals were drawn to the area, including Phoenix Wright, Maya Fey, Pearl Fey, Elise Deauxnim and her student Larry Butz. Elise Deauxnim privately informed Bikini of her real identity: that of the lost Master of Kurain Misty Fey. Maya, who was Misty's daughter, had signed up for the temple's "Special Course" of spiritual training, and so the group had a feast that night before Maya headed for the Inner Temple for the training. Suffering from a back problem, Bikini left Iris in charge of guarding the Inner Temple while Maya trained there, and then had a hot bath to soothe her back.
Later, Bikini went to the temple courtyard and witnessed Iris removing the Shichishito from Misty Fey's body and gave a blood-curdling scream before fainting. Phoenix Wright awoke from the sound, and Bikini told him to go call the police, and Iris was subsequently arrested. Two days later, Bikini entered the District Court as the first witness for Iris's trial. Iris's defense attorney stand-in, Miles Edgeworth, found flaws in Bikini's testimony and eventually discovered that the murder had happened long before Bikini had witnessed the stabbing. During Wright's subsequent investigation, Bikini eventually revealed "Deauxnim's" true identity, as well as the shared parentage between Pearl and Iris.
After the incident's resolution, Bikini was pleased to note that the trial had renewed interest in the Kurain Channeling Technique.
Personality
Edit
Bikini is a hearty woman who acts as a mother figure to Iris. She, along with Iris, run Hazakura Temple and she has raised Iris ever since she was a young girl when her father had abandoned her. Since then, Bikini has raised Iris with love and affection like a real daughter and Iris has always thought of Sister Bikini as her mother. She has a carefree attitude about many things, and is known to be quite flirtatious (especially with Miles Edgeworth, but other men as well). She enjoys making innuendo about her name, hinting at her various states of (un)dress during the spring and summer months. She chose her name especially as it "gives people a good image". She can also complain a lot, as she has a back that acts up "violently".
As a member of a Fey branch family, Bikini holds the Fey clan heritage in deep respect. Her concern over Maya's condition caused her to briefly sink into a depressed state, and she consistently referred to Maya and Misty (as Elise) with their title of "Mystic". Despite her personality quirks, Bikini can quickly become serious and focused if the situation calls for it.
Bikini's name is an alias. Before meeting her, people imagine Bikini as a woman wearing a bikini.
The first two kanji (毘忌) in "Bikini" are apparently typical of priest names, while the last kanji (尼) means "nun".
Her name may also be a pun on "Bhikkhuni", which are Buddhist nuns.
Development
Edit
Each member of the Fey clan wears orbs on necklaces, which represent her training's progress. Bikini apparently wears many, although the exact number is unclear, as they are largely obstructed by her hood.[1]
Bikini was made short to save on memory on the game cartridge after a miscalculation regarding the size of all of the game assets.[2]
References
Edit
↑ (2009). "The Art of Phoenix Wright: Ace Attorney". UDON. ISBN 1-897376-19-7.
↑ Hsu, Janet (2014-10-31). Ace Attorney Trilogy - Surprising Tidbits You Never Knew! Capcom Unity. Retrieved on 2014-11-02.