The Berry Big Circus is a traveling circus that has been running since at least 1997. Russell Berry was the owner and ringmaster until his death in 2017. He was succeeded by Lawrence Curls. Russell's daughter Regina continues to work in the circus as the head of the animal tamer division.
Acro and Bat
Edit
In 2000, Ken Dingling and his younger brother Sean were abandoned by their parents, who fled after numerous failed business attempts. Russell was the only one willing to take them in. Wanting to repay the ringmaster for his kindness, the brothers became acrobats, although Russell was against this at first. Ken and Sean soon became permanent acts for shows under the stage names of Acro and Bat, respectively, and would often perform on the tightrope and flying trapeze.
The Léon incident
Edit
Bat soon developed a crush on Regina Berry, and the two would constantly play pranks on each other. One day in June 2017, Bat made a bet with Regina that if he successfully stuck his head into the mouth of Léon the lion, Regina would go on a date with him. Unfortunately, earlier that day, Regina had covered Bat's scarf with pepper to make him sneeze. Bat didn't sneeze, but when he stuck his head into the lion's mouth, the lion did, and consequently bit Bat, critically wounding him. His older brother, Acro, tried to wrestle the lion off Bat, but was injured and became paralyzed in the process.
Bat remained in a coma, and Acro was confined to a wheelchair. Léon was put down after the incident. Regina, being too naive to understand the gravity of what really happened to Bat, believed that Bat had become a star. This angered Acro.
Maximillion Galactica
Edit
The circus's popularity was greatly improved after Max Galactica joined its ranks. Irritated by his new colleagues' lack of ambition, Galactica placed a bust of himself that he had won in the dining room in which all of the performers ate, in an effort to inspire them to reach greater heights in their performances. This was taken the wrong way, earning Galactica a bad reputation inside the circus. Galactica also competed with Benjamin Woodman, the circus ventriloquist, for Regina's affections.
Ringmaster murdered
Edit
Main article: Turnabout Big Top
Acro's anger towards Regina eventually led him to devise a plan to kill her six months after the incident with the lion. However, this resulted in the death of Russell Berry, the ringmaster, instead. The resulting trial of Max Galactica led to Acro's implication as the killer by Phoenix Wright. After Acro's conviction, Regina finally realized the seriousness of Bat's accident and vowed to stay by his bedside until he woke up.
Aftermath
Edit
The infamous assassin Shelly de Killer once escaped nearby to the Berry Big Circus with a hostage to evade the police. He would later give up his hostage after finding out that his client had betrayed him.
The Berry Big Circus began planning a world tour after Moe became the new ringmaster, with Zimbabwe being its first destination (which Regina thought would be filled with "talking bunnies, and castles made of cake").
Prison performance
Edit
This article contains information about Ace Attorney media that has been released only in Japan.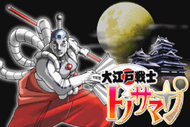 The information in this article comes from a game, demo, or other media that has been released in Japan, but not in any predominantly English-speaking country. The subject of this article has not been officially revealed for English versions of this media. English versions of this content are only available through unofficial translations, and names from these unofficial translations are not being used. More information on this can be found here.

If you have personal experience with the item of media in question, you can help the Ace Attorney Wiki by improving on this article. Please heed the manual of style when adding information.
Main article: The Imprisoned Turnabout
In 2019, the Berry Big Circus gave a performance at the local prison, with the principal planners of the show being Regina Berry and Sōta Sarushiro. Berry put Sarushiro in charge of most of the logistics. Unfortunately, during their performance, the recently-arrested Manosuke Naitō was found dead in the prison and Sarushiro was arrested for the crime. Miles Edgeworth investigated Naitō's death and eventually revealed that the culprit was actually the prison's director, Marī Miwa. Miwa had become paranoid that the agents of one of her inmates, the assassin Ryōken Hōinbō, were out to get her. Falsely believing that Naitō was one of Hōinbō's henchmen, she had killed him out of fear.
About a week later, however, it was discovered that Sarushiro had actually masterminded Naitō's murder and another murder at the Big Tower, as well as two kidnappings. Edgeworth confronted Sarushiro at a Berry Big Circus storage tent. Among other things, it was found that he had used a refrigerated warehouse that had been contracted to the Berry Big Circus to hide one of his kidnap victims as well as the body of someone he had killed by his own hand. After a protracted argument, Sarushiro was held accountable for his crimes.
The English version's name was chosen for the pun "Berry/Very Big Circus".
In the French version, the circus is called "Cirque Hullere", which is a play on the French word "circulaire", meaning "circular".
References to popular culture
Edit
When the player examines the Max Galactica sign at the Circus Entrance, Phoenix Wright thinks that the circus might as well be named "Cirque du Galactica" - a reference to the entertainment company Cirque du Soleil, which performs shows that are a flamboyant mix of street art and circus performances. Wright's comment is likely meant to draw comparisons between Cirque du Soleil and Galactica's over-the-top persona.