This article contains information about Ace Attorney media that has been released only in Japan.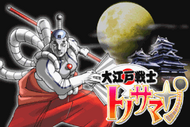 The information in this article comes from a game, demo, or other media that has been released in Japan, but not in any predominantly English-speaking country. The subject of this article has not been officially revealed for English versions of this media. English versions of this content are only available through unofficial translations, and names from these unofficial translations are not being used. More information on this can be found here.

If you have personal experience with the item of media in question, you can help the Ace Attorney Wiki by improving on this article. Please heed the manual of style when adding information.
The audience area is the place from which an assassin was believed to have targeted President Teikun Ō of Zheng Fa during his speech at Gourd Lake in March 2019.
The speech
Edit
Main article: Turnabout Target
On March 22, 2019, Manosuke Naitō, one of President's Ō's bodyguards, made an offer to journalist Mikiko Hayami. In exchange for a special interview with the president, she would come to the president's speech wearing a red raincoat, and point a laser pointer at his forehead. She was not informed of the purpose of this request, but she agreed to it. In reality, she was being set up to take the fall for a bogus assassination attempt on the president, orchestrated by Naitō. A day later, an assassin named Shelly de Killer tried to kill the president for real, but was thwarted by Gai Tojiro, the head bodyguard.
On March 25, President Ō arrived at Gourd Lake from a seaplane and stepped out onto a stage specially prepared for the occasion. From the audience, Hayami turned her yellow parka inside-out into a red raincoat to disguise herself. She then used her tape recorder to record the president's speech. In front of her was the Chief Prosecutor with one of his subordinates, Winston Payne, and their conversation was also recorded. Meanwhile, Kay Faraday took a photo of herself with the stage and audience in the backdrop, with the backs of Hayami and the prosecutors visible. Hidden elsewhere in the audience was de Killer, who was also wearing a red raincoat to disguise himself as Hayami.
As Hayami pointed her laser pointer at the president, two gunshots suddenly rang out. The ensuing panic destroyed all news footage of the event. Now finding it undesirable to be mistaken for the false assassin, de Killer ditched his raincoat under a nearby stall. Faraday caught another photo of the crowd, with de Killer in it, as well as a photo of the president with his bodyguards, a laser still aimed at him. As the president and his bodyguards retreated into the plane, the entire crowd was contained within the audience area. The Chief Prosecutor had Miles Edgeworth come to Gourd Lake and investigate the incident.
As Edgeworth and Detective Dick Gumshoe were investigating the stage, Hayami called out to them, claiming to have information about the incident. She initially refused to divulge it unless Edgeworth gave information about himself, but Edgeworth got her to reveal her recording of the incident. This prompted him and Gumshoe to investigate the audience area, finding security plans and a six-shot revolver in the trashcan, which Naitō had planted to implicate Hayami. Edgeworth soon found de Killer's raincoat and questioned him. De Killer told him that Hayami was the one who had pointed the laser sight.
Naitō then emerged from the plane and informed everyone that Gai Tojiro had been killed, and Hayami was the prime suspect. He tried to bar Edgeworth from investigating the plane, but de Killer subdued him and put a knife to his throat, demanding that Edgeworth be allowed to continue. Through the investigation of the plane, Edgeworth was able to straighten out the facts and have Naitō arrested for the murder.
Ad blocker interference detected!
Wikia is a free-to-use site that makes money from advertising. We have a modified experience for viewers using ad blockers

Wikia is not accessible if you've made further modifications. Remove the custom ad blocker rule(s) and the page will load as expected.