Home
Talk

192
1,333pages on
this wiki

Please note: As this wiki aims to provide comprehensive information on all topics related to the Ace Attorney franchise, many articles will contain unmarked SPOILERS for Ace Attorney media both old and new.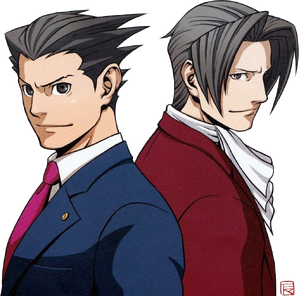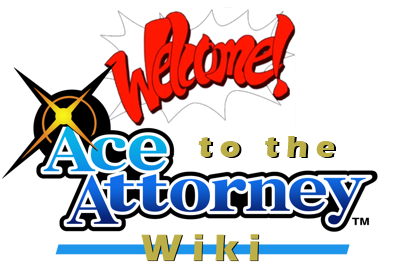 The Ace Attorney franchise is based around the adventure video games published by Capcom. In these games, the player takes on the role of an attorney who must uncover the truth behind crimes using evidence, cross-examination, and investigation. There are currently eight games in the series. The series has also spawned film, musical, and manga adaptations, as well as crossovers with other franchises.
We are currently housing 1,333 articles, and 6,480 files. We need YOUR help expanding and adding articles to the wiki! We have a whole host of things to do, so we really hope that you join us! You can also find out more here.
Ace Attorney side games
Main categories
Other games
Other media
Miscellaneous categories
About Ace Attorney

Ace Attorney (referred to as Gyakuten Saiban (lit. "Turnabout Trial") and Gyakuten Kenji (lit. "Turnabout Prosecutor") in Japan) is a meta-series of primarily text-adventure video games created by Shu Takumi and published by Capcom for the Game Boy Advance and Nintendo DS handheld systems, with ports for Microsoft Windows, WiiWare and iOS. These games follow various lawyers in their battles in the courtroom and their investigations of crime scenes. The first four games, which were originally released between 2001 and 2007 in Japan, comprise the "Gyakuten Saiban" (meaning "Turnabout Trial") series, and follow defense attorneys Phoenix Wright and Apollo Justice as they give their all to defend their clients in a courtroom setting resembling that of the Japanese legal system, using investigative skills, cross-examinations and evidence. The next two games, the first released in 2009 and the second (to date in Japan only) in 2011, are part of an ongoing interquel series, Gyakuten Kenji, and follow prosecutor Miles Edgeworth as he investigates various crime scenes to find the truth behind the crimes using evidence collection, logic and arguments with other people.(more...)
Featured article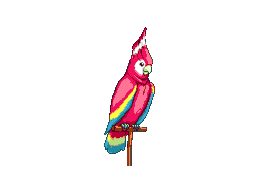 Polly is a parrot who lived in the caretaker's shack at Gourd Lake.
Polly was named after Polly Jenkins, the late fiancée of Yanni Yogi, Polly's owner. After Yogi's insanity plea in his trial for the DL-6 Incident, he lost his job and his social standing, and Jenkins eventually committed suicide. The memory of Jenkins was preserved in the name of Yogi's parrot. Yogi would continue to feign insanity and senility in the years to come.
>>> Vote for the next featured article!!! <<<
Flavor poll
Shu Takumi's new courtroom game is set at the turn of the 20th century. What are your thoughts?
Random Quote
The voice on the tape recorder never was "You're a goner!" That's only what we thought we heard, when in fact, it was the witness getting yelled at! The court will note that this is different from the selective hearing men are so good at!
...I think you're right, but what was that last part again?
"Can I quote you on that?", end
quote.



The Daily Express
For more past news, please see our news archive.
August 14, 2014 - The iOS version of Phoenix Wright: Ace Attorney: Dual Destinies is now released for North America, Europe, and Australia. Source: iTunes (US), (UK), (AU), etc
August 7, 2014 - With no apparent forewarning, Capcom releases Gyakuten Saiban 5 for iOS version 6.1 and up. A release of Phoenix Wright: Ace Attorney: Dual Destinies for iOS is also planned for North America, Europe, and Australia. Source: iTunes Japan, Capcom Unity
July 6, 2014 - Several items concerning the wiki need to be dealt with. You can give your input here. Don't worry if it's too daunting to take in all at once. Just say what you can.
June 22, 2014 - We have reached our 1100th article!
June 5, 2014 - As part of Capcom's E3 news, Phoenix Wright: Ace Attorney Trilogy is announced for release for the Nintendo 3DS eShop in the West with a Winter 2014 release date. Sources: Siliconera, Youtube Trailer
April 28, 2014 - We have reached our 1000th article!!!
April 22, 2014 - First details of a new game, Dai Gyakuten Saiban: Naruhodou Ryuunosuke no Bouken, in this week's Famitsu! Source
April 17, 2014 - Gyakuten Saiban 123: Naruhodou Selection is released in Japan.
March 28, 2014 - Professor Layton vs. Phoenix Wright: Ace Attorney is released in Australia!
March 28, 2014 - Professor Layton vs. Phoenix Wright: Ace Attorney is released in Europe!
February 15, 2014 - We have reached our 900th article!
February 13, 2014 - Shu Takumi, the original creator of the Ace Attorney series, has announced that he is working on a new game in the series that will be "completely different from past Ace Attorney games". Sources: Siliconera, Kotaku, Court-Records Forums
January 21, 2014 - Gyakuten Saiban 123: Naruhodou Selection is announced for the Nintendo 3DS for release in Japan on April 17, 2014, which is to be a re-release of the first three games in the Ace Attorney series. Source: Court-Records Forums
Community Corner
Ongoing projects
Featured article nominations
Sandboxes
Browse the Ace Attorney Wiki