As this wiki aims to provide comprehensive information on all topics related to the Ace Attorney franchise, many articles will contain unmarked

spoilers

for Ace Attorney media both old and new.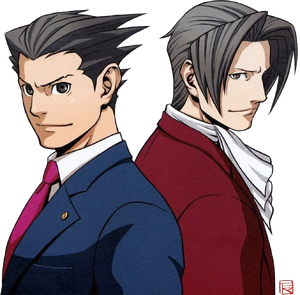 The Ace Attorney franchise is based around the adventure video games published by Capcom. In these games, the player takes on the role of an attorney who must uncover the truth behind crimes using evidence, cross-examination, and investigation. The series has also spawned film, musical, and manga adaptations, as well as crossovers with other franchises.
We are currently housing 1,957 articles, and 7,303 files. We need your help expanding and adding articles to the wiki! We have a whole host of things to do, so we really hope that you join us! You can also find out more here.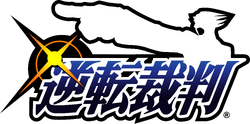 Ace Attorney is a franchise centered around a series of visual novel / adventure hybrid video games developed and published by Capcom. It began as a trilogy of comedic legal thrillers known as Gyakuten Saiban (逆転裁判, lit. "Turnabout Trial") created by Shu Takumi and released for Nintendo's Game Boy Advance handheld in Japan between 2001 and 2004. The trilogy was later ported to the Nintendo DS between 2005 and 2007 and released internationally. These games follow the exploits of a passionate rookie defense attorney named Phoenix Wright (Ryūichi Naruhodō in Japan) who fights for his clients in a courtroom setting loosely resembling that of the Japanese legal system, using investigative skills, cross-examinations and evidence. Subsequent games have branched off and altered the formula of the original trilogy, as well as starring different protagonists. Among these, two detective games collectively known as Ace Attorney Investigations (逆転検事 Gyakuten Kenji, lit. "Turnabout Prosecutor") place the player in the role of Phoenix Wright's rival, a genius prosecutor named Miles Edgeworth, as he investigates crime scenes using evidence collection, logic and arguments. Also in progress is a series taking place in Meiji-era Japan and Victorian London, called Dai Gyakuten Saiban (大逆転裁判, lit. "Great Turnabout Trial"), starring Ryūnosuke Naruhodō and a version of the fictional detective Sherlock Holmes. As well, the original trilogy has been ported to Microsoft Windows, WiiWare, iOS and the Nintendo 3DS, and the original Gyakuten Saiban formula has continued with Apollo Justice and Athena Cykes as new recruits seven years after Phoenix Wright's original adventures.more
Joe Darke was a businessman who killed several people in 2015 in an incident known as the SL-9 Incident in police files. He was wrongfully convicted and executed for the murder of Neil Marshall — the only one of the victims that he did not kill — through fake evidence. The real killer was not arrested for Marshall's murder until two years later.
In 2015, the Criminal Affairs Department had a special team investigate the spree killings of Edward Jones, Jason Knight, Edith Kirby, Rachael Moss, and Jeb Bates. The team's working hypothesis was that, on his way home from work, Joe Darke had accidentally hit a man with his car, killing him. Events had then quickly spiralled out of control as Darke murdered a man who had witnessed the accident, followed by a lady who had witnessed this second crime, and then a child who had been walking by the crime scene at the time. A jogger had also stumbled across Darke as the latter was burying the bodies and was killed as well. However, this was all conjecture with no decisive evidence, until Darke turned himself in.more
---
---
Vote for the next featured article here! Please bear in mind that you are voting for the article, NOT the subject of the article. This means that you should go and read the articles to make an informed decision! To do so, click on the "Wiki Activity" button and view the Community Messages box. A new featured article is chosen in this way every two months.
The next poll will be up soon!
Featured article nomination discussions
Edit
If you choose "Other" in the poll (and even if you don't), you are encouraged to try to nominate the article that you want featured. Do this in this page's talk page. Post about an article that you think should be featured in the future, and give good reasons for your choice. Wikipedia's guidelines are good considerations for nominating articles. At the very least, though, the article should be complete as outlined in the manual of style. This basically means that it should give a complete general description of its subject by itself.
For past polls, follow this link.
Of the recent "Ace Attorney" announcements, what are you most excited about?
---
Yes. They're all very fond of their drugs...
For more past news, please see our news archive.
---
September 17, 2015 - Capcom announces at Tokyo Game Show 2015 that an anime series based on the original trilogy of Ace Attorney games is in development, with an April 2016 air date. Sources: Anime News Network & Capcom's Gyakuten Saiban twitter
September 17, 2015 - The first trailer for Ace Attorney 6 has been revealed at Tokyo Game Show 2015 (link), with a release planned for 2016.
September 7, 2015 - There is ongoing discussion about redesigning our front page. You can give your input here.
September 1, 2015 - Gyakuten Saiban 6 is announced in Famitsu! Sources: Court Records & Famitsu
July 8, 2015 - Dai Gyakuten Saiban: Naruhodō Ryūnosuke no Bōken has been released in Japan!
May 13, 2015 - The May 12 Famitsu not only has info on the second episode of Dai Gyakuten Saiban: Naruhodō Ryūnosuke no Bōken, but also reveals that Phoenix Wright and Maya Fey will enter Project X Zone 2!
April 8, 2015 - We've reached 1600 articles!
April 1, 2015 - The April 2 Famitsu issue has come out featuring Dai Gyakuten Saiban: Naruhodō Ryūnosuke no Bōken. Additionally, a new trailer for the game was revealed after the April 1 Nintendo Direct.
April 1, 2015 - Template:Quote is changing and you can give your input here.
March 31, 2015 - New details on Dai Gyakuten Saiban: Naruhodō Ryūnosuke no Bōken are coming out ahead of the Capcom TV livestream on April 1, including a rival prosecutor and a release date!