As this wiki aims to provide comprehensive information on all topics related to the Ace Attorney franchise, many articles will contain unmarked

spoilers

for Ace Attorney media both old and new.
The Ace Attorney franchise is based around the adventure video games published by Capcom. In said games, the player takes on the role of an attorney who must uncover the truth behind crimes using evidence, cross-examination, and investigation. The series has also spawned film, musical, anime, and manga adaptations, as well as crossovers with other franchises.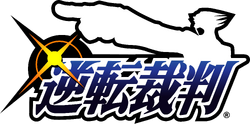 Ace Attorney is a franchise centered around a series of visual novel / adventure hybrid video games developed and published by Capcom. It began as a trilogy of comedic legal thrillers known as Gyakuten Saiban (逆転裁判, lit. "Turnabout Trial") created by Shu Takumi and released for Nintendo's Game Boy Advance handheld in Japan between 2001 and 2004. The trilogy was later ported to the Nintendo DS between 2005 and 2007 and released internationally. These games follow the exploits of a passionate rookie defense attorney named Phoenix Wright (Ryūichi Naruhodō in Japan) who fights for his clients in a courtroom setting loosely resembling that of the Japanese legal system, using investigative skills, cross-examinations and evidence. Subsequent games have branched off and altered the formula of the original trilogy, as well as starring different protagonists. Among these, two detective games collectively known as Ace Attorney Investigations (逆転検事 Gyakuten Kenji, lit. "Turnabout Prosecutor") place the player in the role of Phoenix Wright's rival, a genius prosecutor named Miles Edgeworth, as he investigates crime scenes using evidence collection, logic and arguments. Also in progress is a series taking place in Meiji-era Japan and Victorian London, called Dai Gyakuten Saiban (大逆転裁判, lit. "Great Turnabout Trial"), starring Ryūnosuke Naruhodō and a version of the fictional detective Sherlock Holmes. As well, the original trilogy has been ported to Microsoft Windows, WiiWare, iOS and the Nintendo 3DS, and the original Gyakuten Saiban formula has continued with Apollo Justice and Athena Cykes as new recruits seven years after Phoenix Wright's original adventures.more
Celeste Inpax was Adrian Andrews's mentor, former lover to Matt Engarde and Juan Corrida's fiancée. She committed suicide when Juan Corrida called off their wedding. Her suicide played a large role in Juan Corrida's murder two years later.
Celeste Inpax and Adrian Andrews worked at Global Studios together. Inpax was Andrews's mentor, but Andrews began to develop an unhealthy dependence on Inpax.
Inpax was manager to actor Matt Engarde. The two dated, but unbeknown to Inpax, Engarde was merely using her to service his own career before ending their relationship. After the relationship ended, Inpax moved to Worldwide Studios to avoid scandal, and became the manager of Engarde's rival, Juan Corrida. The two developed a romantic relationship and eventually became engaged. Upon learning this, Engarde, intending to hurt his rival, revealed their past relationship to him days after the engagement. Corrida immediately canceled the wedding. Heartbroken by this, Inpax told her friends, "It looks like I may have been caught by an insidious man..." before hanging herself.more
---
---
Vote for the next featured article here! Please bear in mind that you are voting for the article, NOT the subject of the article. This means that you should go and read the articles to make an informed decision! To do so, click on the "Wiki Activity" button and view the Community Messages box. A new featured article is chosen in this way every two months.
Poll
Which article should the Ace Attorney Wiki feature on its front page?
Featured article nomination discussions
If you choose "Other" in the poll (and even if you don't), you are encouraged to try to nominate the article that you want featured. Do this in this page's talk page. Post about an article that you think should be featured in the future, and give good reasons for your choice. Wikipedia's guidelines are good considerations for nominating articles. At the very least, though, the article should be complete as outlined in the manual of style. This basically means that it should give a complete general description of its subject by itself.
For past polls, follow this link.
With the announcement of "Dai Gyakuten Saiban 2: Naruhodō Ryūnosuke no Kakugo", do you think "Dai Gyakuten Saiban: Naruhodō Ryūnosuke no Bōken" will ever receive a western localization?
---
(Project confidence... Like a boss.)
Can I quote you on that?
Have there been any problems now that everyone here knows you're a girl?
Heh heh, no worries there! I discussed the matter with Prof. Courte some time ago. I told her I wanted to let everyone know I was really a girl. And just today I found out that she spoke with the school administration on my behalf.
Wow, they must really like you...
I know, right? But now I can finally be myself here at school! I don't have to hide the fact that I love girly clothes! That's why, Athena, I simply must have [Stage Costume] and... [Glowing Costume Photo] by any means possible!
What? B-But this is evidence we need for the trial. ...Sorry, but no can do!
Aww, don't be a party pooper, Athena. Come on, please? Pretty please?
Stage costume-related evidence taken in classic end-justifies-the-means style!
For more past news, please see our news archive.
---
September 21, 2017 - Phoenix Wright: Ace Attorney: Spirit of Justice is now available on on iOS and Android worldwide. Source: iTune Store and Google Play Store
August 31, 2017 - There is ongoing discussion about redesigning our infoboxes and other improvements to the Ace Attorney wiki. You are welcome to give your input here!
August 31, 2017 - Dai Gyakuten Saiban: Naruhodō Ryūnosuke no Bōken is now available on iOS and Android in Japan. Source: Japanese iTune Store and Japanese Google Play Store
August 9, 2017 - Apollo Justice: Ace Attorney is coming to the Nintendo 3DS in November. Source: Capcom Unity
August 3, 2017 - Dai Gyakuten Saiban 2: Naruhodō Ryūnosuke no Kakugo has been released in Japan.
May 24, 2017 - Phoenix Wright: Ace Attorney: Dual Destinies is now available on the Android platform. Source: Google Play Store
December 1, 2016 - Apollo Justice: Ace Attorney HD is now available on iOS!
November 28, 2016 - There is ongoing discussion about redesigning our infoboxes. You can give your input here.
October 12, 2016 - Happy anniversary Ace Attorney! It has now been 15 years since the original version of Gyakuten Saiban (Phoenix Wright: Ace Attorney) was released on Game Boy Advance in Japan! Official website: [1]
October 11, 2016 - Apollo Justice: Ace Attorney is coming to smartphones! Source: Gematsu
...that Ace Attorney is Nintendo's 9th best-selling franchise of all time?
...that Shu Takumi wanted to make games that were easy enough for his non-gamer mother to pick up and play?
...that Maya Fey was always going to be Phoenix Wright's partner in crime, but she was originally supposed to be a lawyer-in-training who was preparing to take the bar exam?
...that Detective Dick Gumshoe was supposed to be a big fan of horse racing?
...that Larry Butz is left-handed?
...that the judge's real name is never revealed, even when Phoenix Wright receives his business card?
...that Jake Marshall is meant to be a parallel of Godot in the "Skye/Fey sisters" analogy?
...that the opening cutscene of The Lost Turnabout was supposed to have a demon instead of the judge?
...that Pearl Fey was originally going to be around the same age as Maya Fey and would've been a one-shot, snooty rival character?
...that Turnabout Big Top was originally supposed to appear as the fourth episode in Phoenix Wright: Ace Attorney: Justice For All, but was cut down due to lack of space on the Game Boy Advance cartridge that the game was originally released on?
...that Wendy Oldbag was supposed to appear as part of the plot in Phoenix Wright: Ace Attorney: Trials and Tribulations, but (aside from a brief cameo during the credits) was cut due to memory issues?
...that Bikini was made short to save on memory?
...that Godot was originally going to drink bourbon whiskey and smoke to match his "hard-boiled" image?
...that initial name ideas for Diego Armando included Joseph Cuppa, Xavier Barstucks, and William Havamug?
...that Phoenix Wright: Ace Attorney, Phoenix Wright: Ace Attorney: Justice For All, and Phoenix Wright: Ace Attorney: Trials and Tribulations were originally released as Game Boy Advance games in Japan?
...that Level-5 CEO Akihiro Hino has stated that Professor Hershel Layton was partly based on Phoenix Wright?
...that Shu Takumi worked on Dino Crisis and Dino Crisis 2 before creating the Ace Attorney series?
...that the name of Matt Engarde's pet cat Shoe is a reference to series creator Shu Takumi?
...that PlatinumGames founders Atsushi Inaba, Hideki Kamiya, and Shinji Mikami have all worked on the Ace Attorney series?
...that Shu Takumi wanted Apollo Justice to wear green instead of red, but was overruled by the rest of the team?
...that Godot's Japanese voice actor Hideki Kamiya originally wanted to have the character shout "Objection, baby!" but, because the in-game speech bubble graphic just says "Objection!", the development team were unable to do so?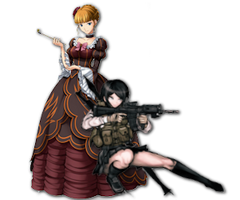 Visual Novel Games
Go to these sites for info or for help with your own wiki!
Ace Attorney • AliceSoft • Danganronpa • Date A Live • Higurashi no Naku Koro ni • Steins;Gate • TYPE-MOON • Umineko no Naku Koro ni • Zero Escape
Want your community included? See how!

Ad blocker interference detected!
Wikia is a free-to-use site that makes money from advertising. We have a modified experience for viewers using ad blockers

Wikia is not accessible if you've made further modifications. Remove the custom ad blocker rule(s) and the page will load as expected.